The Best Documentaries of 2021 to Be Released So Far
Get ready to update your queue because these are the best documentaries of 2021 to be released so far! True crime, current events, and scandal have all worked their way into production crews this year, bringing us some really great documentaries.
As always, Netflix, HBO and Amazon Prime did not disappoint. They've all proven that they're dedicated to releasing amazing documentaries every single year!
Clear your schedule and stock up on your favorites because you'll want to stay in for the next few weekends.
Here we go – the best documentaries of 2021:
---
Subscribe to our email list for notifications of new documentaries and what you should be watching!
---
Some links on this page many contain affiliate links. For more information, see our disclosure policy.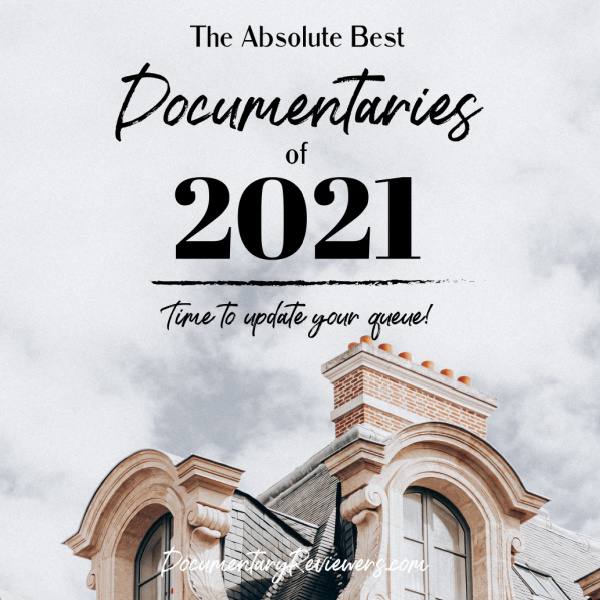 Crime Scene: The Vanishing at Cecil Hotel
If you like documentaries with lots of twists and turns, you'll love Crime Scene: The Vanishing at Cecil Hotel.
This mind-blowing 2021 documentary will have your eyes completely glued to the screen…and the ending is one that you may not see coming.
This Netflix docuseries chronicles the bizarre and disturbing history of the infamous Cecil Hotel. The main focus, however, is on the mysterious disappearance of Elisa Lam, a case that drew international attention.
The story of Elisa Lam is more than enough to make this Netflix documentary one of the best of 2021. But it also provides a unique glimpse into LA's equally infamous Skid Row, another fascinating story line that you won't soon forget.
This is definitely a 2021 docuseries that you'll want to clear your schedule for! Add it to your queue and cozy up.
The Sons of Sam
The Sons of Sam is told through the eyes of dedicated investigative journalist, Maury Terry. It recounts the infamous story of famed serial killer, David Berkowitz…but with new details that suggest he may not have acted alone.
Instead, Terry's investigation leads him all over the country. Through his research, he uncovers bizarre evidence like a network of Satanic cults and ties to equally notorious killer, Charles Manson.
If you have a fascination with serial killers, this 2021 Netflix docuseries is an absolute must-watch! To think that one of the country's most well-known murderers may not have acted alone is something that will stay on your mind for a while.
LFG
The fight for equal pay is nothing new in our country. But after watching LFG, you'll have a new respect for the outrageous injustice and the almost bizarre attempts of corporations to prevent progress.
Told through the eyes of US Soccer's renowned women's team, you go step-by-step with them through their high profile legal battle with the US Soccer Federation over equal pay.
To understand the personal sacrifices they make to compete is heartbreaking. This is especially true when intertwined with the harsh reality that many aren't given a livable wage, let alone one that is fair.
This is an amazing documentary of 2021 that will catch you off guard and keep you glued to the screen…and hopefully turn you into an advocate. Add it to your queue!
LuLaRich
Whether or not you remember the era of buttery-soft LuLaRoe leggings, you'll be captivated by LuLaRich.
This new 2021 documentary follows the rise and fall of the now infamous MLM empire. It includes commentary from both founders, as well as multiple women who worked their way into various levels within the company.
The clothes, the characters, the underlying beliefs…they all come together to tell a story that is as bizarre as it is fascinating.
This is a great documentary of 2021 that is entertaining and interesting. Definitely add it to your queue!
Dirty John: The Betty Broderick Story
Technically a 2020 release, Dirty John: The Betty Broderick Story didn't make it onto Netflix until 2021 (so it's new for many of us!). But it's well worth a weekend binge watch. While this may not be a full-blown documentary, the adaptation is so compelling that you'll think you're watching the real-life events unfold…and they are painfully real.
The docu-series follows the life and trial of Betty Broderick. Betty ultimately shoots her ex-husband (you find this out right away)…but it's the years of shocking drama, manipulation and bitter fighting that will blow your mind.
The story sounds like your classic divorce-gone-wrong, but the level of plotting, pain and cruelty is nothing short of horrific. You will find yourself constantly see-sawing back and forth between backing Betty and wanting to jump through the screen to tell her to stop.
This is an amazing and addictive new addition to 2021. It's a true crime story that everyone should be familiar with. Definitely add it to your queue!
Tiger King 2
Just when you thought it couldn't get wilder, Tiger King 2 shows up with a continuation of the craziest cast of characters you've ever known.
If you somehow missed Tiger King (go add that to your queue now!), Tiger King 2 provides the next sequence of events in the bizarre life of Joe Exotic, an exotic zoo keeper who gets himself caught up in far more than zoo keeping.
Tiger King 2 does manage to be just as shocking, especially if you haven't been following the gang in the news.
Just as with its predecessor, Tiger King 2 will leave you completely bewildered and definitely glued to the screen, with another cliffhanger ending that may mean there's more to come!
I hope you get a chance to watch every single one of these new documentaries. 2021 did not disappoint!
You may also be interested in:
Subscribe to our email list for notifications of new documentaries and what you should be watching!