10 Little-Known Amazing Documentaries that Will Have You Glued to the Screen
Every now and then we come across amazing, but little-known, documentaries that came out of nowhere. No one seems to be talking about them and they aren't falling on anyone's Best Of lists. We're intrigued, but not necessarily expecting much, and then WOW. They end up being fabulous.
These are those documentaries. The ones that are really amazing, but you've probably never heard of them. They should probably go on our Best Documentaries list, but instead, we're keeping them here!
So curl up and get ready for some fascinating, entertaining, and amazing documentaries that you probably haven't heard of until now.
---
Subscribe to our email list for notifications of new documentaries and what you should be watching!
---
Some links on this page many contain affiliate links. For more information, see our disclosure policy.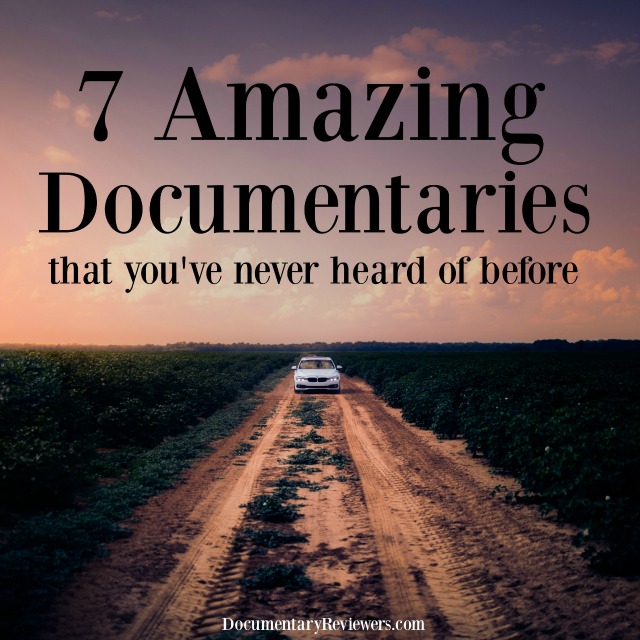 Unrest
I'll be honest – until this documentary, I had never even heard of Chronic Fatigue Syndrome or Myalgic Encephalomyelitis. But holy moly, I'll never forget it now.
Unrest chronicles the frustration, devastation, and confusion that accompanies this disease that seems to affect far more people than you'd ever expect.
Jennifer Brea suffers from the disease herself and does an unbelievable job creating a documentary that pulls at your heartstrings, gives you hope, and keeps you glued to the screen until the very end.
She not only gives you a glimpse into the struggles she faces everyday, but profiles others who also suffer from this disease. Some stories are so devastating, you will want to take action right away.
I can't recommend Unrest enough. Add it to your queue!
Related post: The Best Documentaries about Rare Diseases & Medical Mysteries
The Barkley Marathons
Deep in the Tennessee mountains, an annual race takes place. Before this documentary, the race was only known by die hard runners that wanted to see just how far they could push themselves. After this documentary…my bet is that there are many more runners lined up to attempt the run!
Based off of a famed prison break, The Barkley Marathons (the name of the documentary and the race) takes runners over a 20 mile course – 5 times! The rugged, rough, and steep terrain make the course downright miserable.
The documentary follows runners along the race, but also profiles the founders of the race, which is comical and heart-warming.
The Barkley Marathons is a must-watch for runners, sports buffs, or documentary lovers!
Related post: 4 Running Documentaries that Will Turn You into a True Marathon Runner
Searching for Sugar Man
Amazing music, an ending with a twist, a once-in-a-lifetime story, and a really talented producer. All of these things make Searching for Sugar Man one of the most amazing documentaries you will ever see.
Split between South Africa and Detroit, this documentary tells the story of Rodriguez, a Detroit-based struggling artist who can't seem to find his big break. But there's one thing truly amazing about Rodriguez that sets him apart from the thousands of other wannabe artists – he's actually a huge sensation…around the globe in South Africa.
What makes this story so amazing though is that Rodriguez NEVER KNEW he was a sensation…and his South Africans fans could never find him.
This is definitely one of the best documentaries out there!
The Fear of 13
The Fear of 13 is a captivating, disturbing, and exciting documentary…and it manages all of that while still featuring only one person through the entire film: Nick Yarris, a death row inmate who most famously petitioned the courts to follow through on his right to be executed within 60 days of his request.
Nick's storytelling abilities are amazing and the details of his life and case will blow your mind – in both good ways and bad ways.
The Fear of 13 is without a doubt a hidden gem in the documentary world, especially if you have a sweet spot for true crime or prison documentaries.
You will enjoy this one! Definitely add it to your Netflix queue!
Related post: 5 Prison Documentaries that Will Make You Rethink Everything
Omo Child
Omo Child tells the unbelievable story of the Kara people, an African tribe who, for centuries, has murdered their own children to avoid an omen.
More importantly, the documentary profiles the unbelievable man who is working to stop this devastating tradition.
What is so amazing about this documentary is the way you get to know the tribe and almost instantly connect with each person that participates in the film.
And this story will stay with you for a long time, trust me.
This documentary blew me away, so there was no question it was finding its way on this list!
You will be shocked, inspired, devastated, and hopeful all at the same time.
Related post: The 5 Best Documentaries about Africa
The Last Czars
The Last Czars is one of Netflix's newest documentaries and it is in a class all of its own.
Retelling the story of Czar Nicholas II of Russia, it intertwines dramatic reenactments with commentary from dedicated historians…so you get the best of both worlds – the awe of true history and the excitement of modern film-making.
Aside from the superior production, the Romanov story is an amazing one and likely one that you don't know everything about.
From the notorious Rasputin to the well-hidden genetic condition of the heir to the throne, this historic documentary has shocking true plot twists around each and every turn.
It's an amazing Netflix documentary that definitely needs to be added to your queue!
Related post: Amazing History Documentaries that Will Transport You Back in Time

Napoleon Hill's Master Key
Napoleon Hill's Master Key is by far, the oldest documentary I've ever seen. Yet still, the information is so powerful and timeless that it's one of the best documentaries I've ever seen.
Technically a docu-series, Napoleon Hill's Master Key lays out exactly what you need to do to succeed…at anything.
You temperment, mindset, the way you carry yourself, who you associate with – all of these factors are things Napoleon discusses in depth so that you can achieve success like the dozens of millionaires he spent his life studying (just wait until you hear the names dropped in this one).
Napoleon Hill's Master Key is a great documentary if you're looking for inspiration, a boost to your career, or motivation to take the next step.
Exit Through the Gift Shop
Exit Through the Gift Shop will change the way you think about the American Dream – maybe even they way you go about achieving it.
In the case of Thierry Guetta – aka Mr. Brainwash – it helps to be a little eccentric, have an obsession for videotaping everything, and ironically have the famed British artist Banksy as your mentor.
Directed by Banksy himself, one of the most prominent but yet mysterious figures in the street art scene, Exit Through the Gift Shop provides an amazing and inspiring glimpse into the counterculture world of street art.
Exit Through the Gift Shop is a story of an ordinary man making another name for himself, Mr. Brainwash.
The Mask You Live In
If you've got a son, nephew, or little boy in your life, then you are going to be glued to the screen for each moment of The Mask You Live In.
The documentary takes a long, hard look at the way parents and society raise boys…and it's pretty eye-opening.
From how sports and video games affect young boys to the rape and gun culture young men are exposed to, it all comes down to one thing – how they're raised.
This documentary didn't leave my mind for days and certainly changed the way I raise my own son, so if you're a fellow boy parent, then The Mask You Live In needs to find its way onto your Netflix queue.
Dirty Pictures
Mind-blowing documentary?
Literally.
If you ever wondered who invents and studies drugs like ecstasy and other psychedelic drugs, Dirty Pictures is for you.
Whether you deem these scientists crazy or crazy genius they are at the forefront of humanity's understanding of reality and science.
Dirty Pictures delves into a unique perspective of the drug world that is little seen and understood.
Be prepared to open your mind to a new perspective into the role of drugs in society.

No matter which documentary on this list you choose, you won't be disappointed! Enjoy. 🙂
You may also be interested in:
---
Subscribe to our email list for notifications of new documentaries and what you should be watching!