10 Documentaries that Will Make You Happier, Healthier, and Wealthier
Who doesn't want to be happier, healthier, and wealthier?  These documentaries make all of that possible by providing the inspiration, motivation, and facts you need to take your mind, health, and finances to the next level.
These are the best of the best, so sit back and get ready to change your life!
Here are 10 documentaries that will make you happy, healthy, and wealthy:
---
Subscribe to our email list for notifications of new documentaries and what you should be watching!
Some links on this page many contain affiliate links. For more information, see our disclosure policy.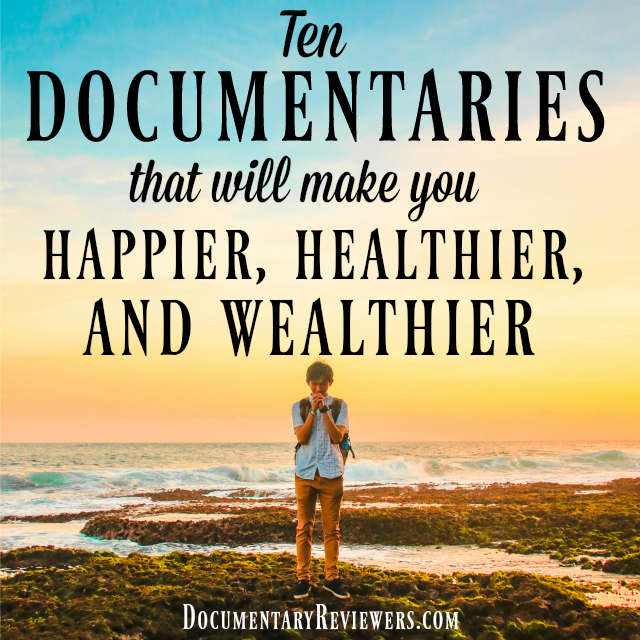 Documentaries that Will Make You Healthier
There are a growing number of fabulous documentaries that focus on our health and well-being, but these are definitely the best!
Forks over Knives
While Forks over Knives may not have been the film that started the healthy eating documentary crazy (that honor goes to Food, Inc.), it is by far the most fact-based, inspirational, and impactful documentary that focuses on your health.
With the statistics and case studies that they provide, it is impossible to not feel a strong urge to change the way you eat – in massive, life-changing ways.
And of course, in addition to the information they pack in there, the documentary itself is entertaining, high-quality, and an easy watch.
If you're looking to change your life, this documentary needs to be on your watch list!
Hungry for Change
While Forks over Knives focuses on meat and dairy, Hungry for Change focuses on the addictive qualities of most of the non-plantbased foods that we eat.
It also sheds light on the obcense influence that corporations have on what we eat, which is disturbing to say the least.
And if that isn't enough, Hungry for Change will introduce you to the term "food-like product"…which I assure you, is something you're not going to feel great about.
What the Health
What the Health is one of the more recent additions to the healthy-living documentary family and it is a game changer.
As with the others, it focuses on the unhealthy foods and habits that are seemingly forced onto us by society.
One of the big things that differentiates this documentary from others is the focus on pharmaceutical companies and the role they play with our health (it's probably not what you realize).
More than anything, What the Health sheds light on not only the influence that huge corporations have on our health, but the fact that these corporations actually band together to help each other out…leaving all of us to pay the price (with our pocketbooks and waistlines).
Documentaries that Will Make You Wealthier
Nothing feels better than watching a documentary that gives you ideas and inspiration on building wealth, getting richer, or achieving any other financial goal you've got.  And these documentaries will definitely do that!
The Secret
The Secret is one of the greatest inspirational documentaries out there.  Not only will it help you achieve wealth, it will help you achieve anything else that you want.
Aside from the magical powers of The Secret (which is really just the Law of Attraction), the documentary itself is pretty entertaining and fun to watch.
It's full of anecdotal evidence of the power of the law of attraction, as well as specific tips and tricks you can use to make The Secret work for you.
If you're serious about building wealth, finding success, or achieving any other dream, The Secret need to be at the top of your watch list!
Related post: Why The Secret Needs to Be the Next Documentary You Watch
Becoming Warren Buffett
If ever there was a man to emulate in the world of finance, it would be Warren Buffett. And this documentary does a fabulous job of laying the groundwork for just that.
Aside from this film being entertaining and well done, it is packed full of life-changing advice from the billionaire himself.
You also get a rare look into the life (both past and present) of Warren Buffett from not only his perspective, but also his family, friends, colleagues, and those closest to him.
Not only will Becoming Warren Buffett teach you new things, but you will undoubtedly be inspired to try new things and take action in your life immediately.
Napoleon Hill's Master Key
All I can say about Napoleon Hill's Master Key is WOW.
First of all, this is not just a documentary.  It is a full-blown docuseries with 15 different episodes, all of which will leave you with different tips and tricks to completely change your mindset, performance, and level of success.
What is especially amazing about this documentary is that it was filmed in the 1950's!  But the concepts and lessons are so timeless that it is extremely relevant, even for today.
Because it was filmed in the 50's, the picture quality is…well…it's interesting.  But in some ways, that only adds to the quality of information!
This documentary is definitely a must-watch!
Documentaries that Will Make You Happier
Nothing is more important than happiness and these documentaries know it!  They've each got their own perspective, but one important thing in common: they prove that happiness can be obtained by anyone.
Happy
Happy is the king of happy documentaries because it is, in fact, focused entirely on happiness.
By focusing on the world's happiest cultures, this documentary tries to find exactly what is needed for people to be happy – tangible things? Family and friends? Healthcare? Good food?
In addition to the study of happiness, you get a glimpse into different cultures, which is always eye-opening and interesting.
One thing is for sure – Happy will change the way you look at your life and what you value most.
Minimalism: A Documentary About the Important Things
When you declutter your life, you declutter your mind.
And in doing so, you open up space for happiness and contentment.
At least, that is what Minimalism: A Documentary About the Important Things purports and what the minimalist movement is based on.
This documentary follows a pair of guys that give up their high-flying lifestyles to embrace minimalism…and all that it offers.
It is a really interesting concept and certainly one that will make you stop and think about how you live your life.
I Am
I Am is as close to a psychological thriller as a documentary about happiness can get.
This documentary takes the unique perspective of looking at happiness as a global condition – we are either all happy or we're all not.
The facts and statistics supporting their theories are pretty startling, to say the least.
I Am is unbelievably thought-provoking and a must-watch for anyone and everyone!
10 Questions for the Dalai Lama
If there ever was a master of happiness, the title would undoubtedly go to the Dalai Lama.
In 10 Questions for the Dalai Lama, a filmmaker is given a rare opportunity…to ask the Dalai Lama 10 questions.
The Dalai Lama's answers are both profound and shockingly simple.  
But at their core, they all point back to one thing – happiness.
I hope you get a chance to watch each and everyone of these documentaries!  Good luck and happy watching.
You may also be interested in: