The 6 Best Documentaries about Billionaires and Their Secrets to Success…or Failure
The dream of becoming a millionaire is so 20th century. Why limit yourself? It's time to think big…really big.  That's what each and every person did in these documentaries about billionaires.
Some may have married into wealth or inherited from their parents, but others were born with the rare talent it takes to build a billionaire fortune all on their own.  
Either way, there are a lot of reasons to watch these billionaire documentaries.
Even a small lesson may take you one step forward to your own fortune.
---
Subscribe to our email list for notifications of new documentaries and what you should be watching!
Some links on this page many contain affiliate links. For more information, see our disclosure policy.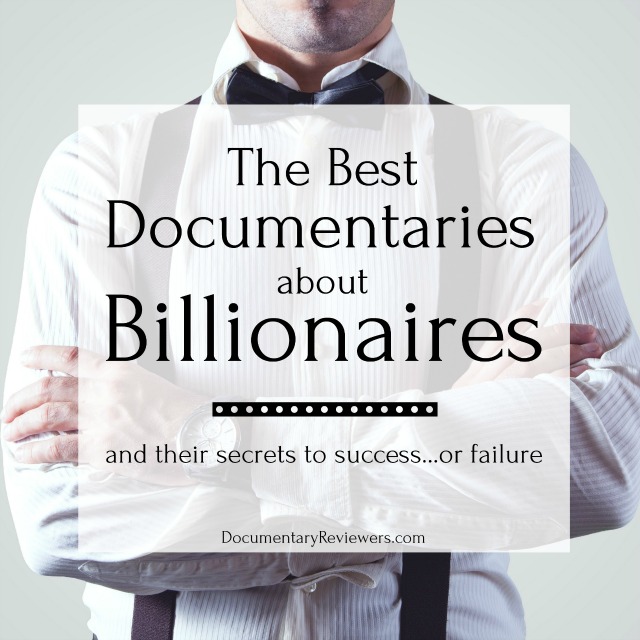 Becoming Warren Buffett
In Becoming Warren Buffett, the king of billionaires, or at least the humblest, is profiled from birth until current day.    
Warren Buffett's story is inspirational for a ton of reasons – he's a self-made billionaire, outrageously dedicated, and hard working.  He's just like us!
Most importantly, this documentary lays out some of the critical traits that helped Buffett get to where he is.  
All of these traits can be emulated, so there's a ton that can be learned from this great billionaire documentary.  
It's a definite must-watch!
Betting on Zero
Betting on Zero is a great business documentary that profiles billionaire Bill Ackman as he makes a billion dollar bet against nutritional supplement giant Herbalife.
This documentary not only provides a glimpse into the life of a successful hedge fund manager, but also delves into the world of multilevel marketing and begs the question – what exactly is the difference between multilevel marketing and a good old fashioned pyramid scheme?
Bill Ackman is pretty sure he knows the answer, but he's got a lot to prove if he wants to be right.
This is a great documentary about billionaires and perfect if you want a glimpse into the world of  Wall Street!
Napoleon Hill's Master Key
Naploeon Hill (author of Think and Grow Rich) based his entire career off of studying the uber wealthy, all after a chance encounter with possibly the world's greatest billionaire, Andrew Carnegie.
Andrew Carnegie saw potential in Hill and not only took him under his wing, he also introduced him to other powerful men of their time – Harvey Firestone, Thomas Edison (seriously!), Henry Ford, and many more.
After a few successful books, Napoleon Hill finally created a documentary – Napoleon Hill's Master Key – that lays out exactly what you need to do to become successful, based off of everything he observed from his billionaire counterparts.
Of all the documentaries about billionaires, this one will certainly provide you with the most tips to create your own wealth.  Be ready – it's OLD. Like, really old.  But that only adds to the value and proves that the best lessons on building wealth are truly timeless.
Agnelli
Agnelli is an inspiring documentary that tells the tale of Gianni Agnelli, playboy billionaire and head of Fiat, within the backdrop of post WWII industrialism.
What DiVinci was to Italy's art and scientific renaissance, Gianni Agnelli was to Italy's industrial renaissance.  He was a beacon of sexuality, power, and wealth. If that wasn't enough, he captured the minds and hearts of everyone.  As the documentary puts it: "Every woman was in love with him. Every man wanted to be him."
In addition to entertaining you, this documentary will inspire you to make a difference in the world, become your own person and to warn you against the person you don't want to be.  
This is a good one! Time to update your watchlist.
Related post: Agnelli Documentary Review
The Queen of Versailles
Not all billionaires have brilliant lessons to teach us. Some give us the valuable opportunity to learn from their mistakes…even if that wasn't their intention.
In The Queen of Versailles, Jackie Siegel (wife to billionaire real estate mogul David Siegel) invites a film crew to follow the construction of the country's largest home – her soon-to-be-home, to be exact.  
Amidst the filming, however, the Siegel's are hit by the real estate bubble and slowly start to lose their fortune.
This is a sometimes comical, but always entertaining documentary about billionaire lifestyles, big bets, and even bigger losses.  It's one of our all-time favorites, so squeeze it into your watch list!
How to Be a Billionaire
How to Be a Billionaire profiles 3 different self-made billionaires: Naveen Jain, Dmitry Itskov, and Michael Birch.  
Each made their wealth in different industries and now focuses on separate passions.
But one thing is similar with each of these men: they are outrageously passionate about their goals and think BIG.  We're talking really, really, really big.
This is a quick watch, but you're likely to have a lot of ah-ha moments.
Related post: How to Be a Billionaire Documentary Review
There's a lot to learn from each one of these documentaries about billionaires, no matter how entertaining they may also be!  Let me know if you've seen other amazing billionaire documentaries and we'll add them to the list! Happy watching. 🙂
You may also be interested in:
---
Subscribe to our email list for notifications of new documentaries and what you should be watching!