3 Must-See Documentaries about Immigration
Of all the heart-wrenching films out there, these documentaries about immigration have a special way of pulling on your heartstrings…and will definitely stay on your mind long after watching.
From the beautiful history of immigration to the current crisis at the border, there are immigration stories from all over the world and they all provide a different perspective and insight.
There's a lot to be learned from the stories of others and these in particular are stories you'll never forget.
So sit back and get ready to tear up. You're going to love these immigration documentaries.
---
Subscribe to our email list for notifications of new documentaries and what you should be watching!
---
Some links on this page many contain affiliate links. For more information, see our disclosure policy.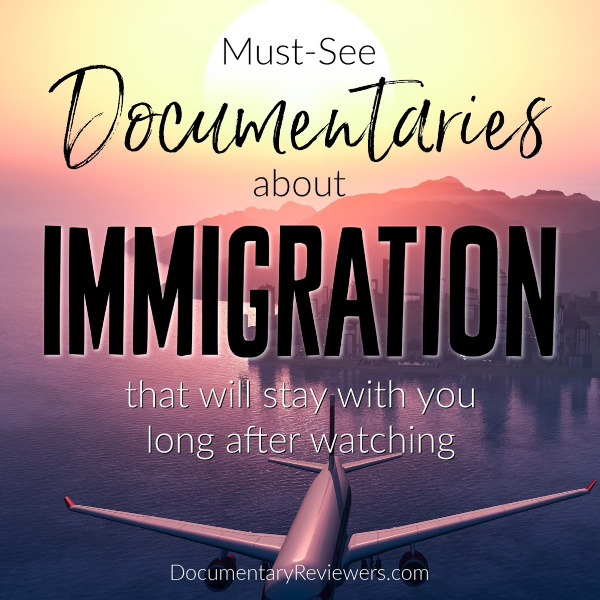 Living Undocumented
Of all the new documentaries about immigration, Living Undocumented is without a doubt one of the most powerful that you will find…and certainly the most relevant to the current immigration crisis.
Throughout this documentary, eight undocumented immigrants are followed as they struggle to keep their families together during one of the most controversial political climates of our era.
They come from all over the world – Mexico, Loas, Honduras, and Mauritania – and some have been living peacefully in the US for decades.
But with immigration policies changing and ruthless new zero tolerance rules, many of these families are now facing their worst nightmares as they do everything possible to fight to stay together.
This is a new Netflix documentary about immigration and definitely one that needs to move to the top of your queue! This one will stay with you for a while.

Liberty: Mother of Exiles
Liberty: Mother of Exiles is an immigration documentary with a very special and fascinating perspective that comes straight from the Statue of Liberty.
From the conception and construction of the Statue to her profound impact on the lives of immigrants, this documentary is a great reminder of how important immigration has always been for this country.
The Statue of Liberty is not just a national landmark. The history that surrounds her is fascinating and powerful and there are definitely surprises in this documentary that you won't see coming.
This is a really great documentary about immigration and one of the world's most famous works of art. It's a great watch no matter what your interest is, so definitely add it to your queue!

God Grew Tired of Us
God Grew Tired of Us is a heart-wrenching documentary about immigrants from war-torn Sudan…the "Lost Boys of Sudan" who were able to make it out alive.
Of the thousands who were forced to flee their country for neighboring refugee camps, a select few were chosen to immigrate to the U.S. for a chance to start a new life.
The documentary follows these boys as they set out for a new life in a new country.
Even with this opportunity, these boys face immense challenges getting used to a world and culture that they never even knew existed.
This is an extremely powerful immigration documentary that you'll never forget seeing. It will definitely change your perspective about a lot of things, not only immigration.
I hope you get a chance to watch each of these documentaries about immigration! They have a powerful message and are important for everyone to see!

You may also be interested in:
---
Subscribe to our email list for notifications of new documentaries and what you should be watching!