Amazing History Documentaries that Will Transport You Back in Time
True crime and investigative journalism may dominate the field, but without a doubt, history documentaries are some of the best films out there.  And as new filming techniques emerge, they only get better and better. 
One of the greatest draws to history documentaries is the ability to learn something completely new and there's no question, that is what will happen with these.
But the best history documentaries go way beyond just being informative. They tell a story that seems too unbelievable to be true…even though it is. With the films on this list, your eyes will be glued to the screen and you'll be thinking about them long after you've finished watching.  
So get ready to update your queue again.  These are the best history documentaries out there and they need to be next on your list.

---
Subscribe to our email list for notifications of new documentaries and what you should be watching!
---
Some links on this page many contain affiliate links. For more information, see our disclosure policy.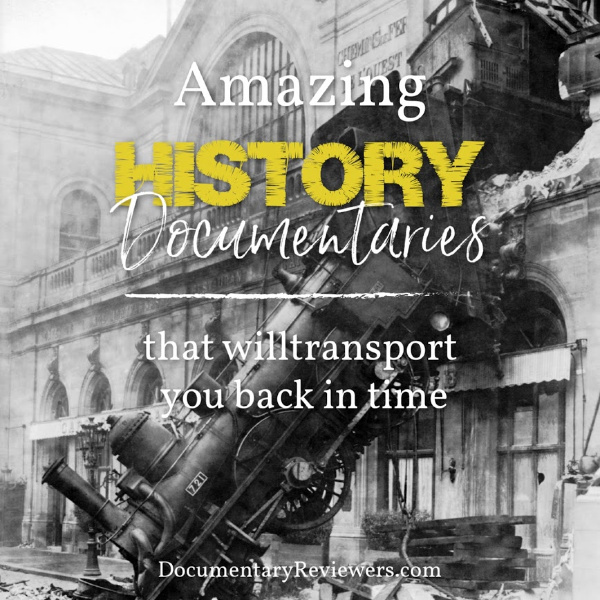 The Last Czars
The Last Czars is one of the newest history documentaries on Netflix and it is AMAZING.
Over the course of 6 episodes (so it's perfect for binge watching!), you learn about the complicated and tragic life of Czar Nicholas II and his wife, Czarina Alexandra of Russia.
The series gives you a glimpse into the Russian life of both the royalty and common people, but more importantly, does a great job of re-enacting the various events that led to the fall of the Romanov empire.
You will learn so much about Russian history in this Netflix documentary without even realizing it!
But what is really unique is how they twist dramatic reenactment with commentary from Russian historians, so you're watching both a movie and a historic documentary at the same time.
Add this history documentary to your Netflix queue! It's absolutely one of the best ones out there.

Prohibition
Of all the classic PBS history documentaries out there, Prohibition is definitely one of the best…if not THE best.
This history documentary not only covers the 12 year period of Prohibition, but the decades leading up to this unique and momentous period of time, which means a history of alcohol in the US, as well as what led a nation to attempt to prohibit its sale and consumption.
What is also surprisingly eerie is how similar the political climate was then as it is today…with parties split on specific issues that seem to push them farther and farther away.
If you're looking for a great history documentary (this one is actually a full series!) to fill your weekend, then this is definitely it.
You'll enjoy yourself and learn a lot about a really fascinating period of American history.

Roman Empire
With a full season dedicated to each featured emperor, Roman Empire is an addicting history documentary that will keep your eyes completely glued to the screen.
Produced in Netflix's exciting docu-drama style, the entire series is a mix of dramatic reenactments and historian accounts to tell the true, real-life stories of these famed men.
Without a doubt, this a piece of history that everyone should know about. But more importantly, the lives of these specific emperors are almost too unbelievable to be true…except they are.
You will learn so much and still feel like you're watching an action film. This is definitely one the best history documentaries out there, so cozy up and enjoy this one!
Witches: A Century of Murder
Witches: A Century of Murder covers a particularly dark part of history – the disturbing spread of paranoia that led to hundreds of witch trials throughout the 1600's.
Through various means of torture, suspected men and women were forced to confess to crimes they had not committed – crimes of curses, hexes, and meetings with the devil.
Witches: A Century of Murder tracks the devastation of Britain's witch trials, starting in Denmark, spreading it's way through Scotland and landing in Great Britain, with notorious trials like the Pendle witches.
This history documentary is both captivating and disturbing, and will sit with you long after you've watched it.
But you will definitely learn a lot about a very important part of history (and one that needs to never repeat itself).

The Circus
From before P.T. Barnum even had a circus through the Ringling Brothers dynasty, The Circus does an unbelievable job taking you back in time to when the circus really was The Greatest Show on Earth.
The development of acts, bringing animals into the fold, and the start of the freak show are all elements of this history documentary that shaped the circus and what it meant to the public.
But what is really interesting is just how big the circus industry was and what it took to produce such a spectacular event.
This is a really interesting history documentary on Netflix that is both enjoyable to watch and captivating. Definitely add it to your queue!

First Civilizations
If you're looking for the ultimate history documentary – the one that starts it all – then First Civilizations needs to be next on your list.
This is a great 4-part documentary series that studies the first known civilizations all over the world, many of which are over 4,000 years old.
The series examines the first wars, cities, religions, and even the first instances of trade.
It's unbelievably fascinating and they do a great job of reenacting exactly what it would have been like.
This is a really captivating history documentary that you'll absolutely learn a lot from, all while enjoying yourself. 😉
Liberty: Mother of Exiles
Liberty: Mother of Exiles is an HBO history documentary that chronicles the history of the Statue of Liberty…a history that is extremely fascinating and even surprising.
From the early years of its creation to the meaning it plays in our current politics, the Statue of Liberty has developed a persona so strong that many see her as an actual person.
This is a rare history documentary that will leave you inspired and warm your heart…while at the same time teaching you way more than you knew about the Statue of Liberty (which provides some really great dinner conversation starters ;-)).
This is definitely a great history documentary that is worth adding to your list! It's part of the HBO family, so if you don't have it but want to give HBO a free trial, you can do that through Amazon Prime right here. Enjoy!

I hope you get a chance to watch every single one of these amazing history documentaries! There's so much to learn about our past and these documentaries do such an unbelievable job of providing little windows into what life was like in past centuries and decades. Enjoy!

You may also be interested in:
---
Subscribe to our email list for notifications of new documentaries and what you should be watching!