The Best Middle East Documentaries about Life, War, and Religion
The Middle East may be plagued with war, political turmoil, religious extremism, and egregious women's rights violations, but it is also a place of beauty and hope.  It is home to a group of people that are fighting for their freedom and heritage. The internet is full of stories and videos of the trauma this area of our world is enduring, but the best documentaries about the Middle East give you a glimpse of both sides of the story. And that is what each Middle East documentary on this list does.
The Middle East is a fascinating, beautiful, and terrifying place all in one.  And these documentaries are some of the best ways to understand little pieces of what life is truly like for those that live there.
---
Subscribe to our email list for notifications of new documentaries and what you should be watching!
Some links on this page many contain affiliate links. For more information, see our disclosure policy.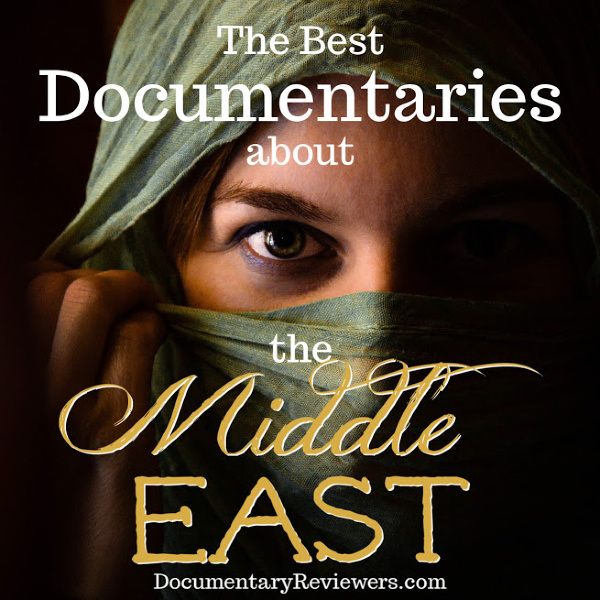 He Named Me Malala
He Named Me Malala tells the story of Malala Yousafzai, one of the most prominent and well-known faces of Pakistan's fight against the Taliban.
Amidst the lifelong battle for her (and other girls') right to an education, Malala was shot in the face by the Taliban. She survived her attack and has since never stopped fighting for the right of girls to have an education.
This is an extremely powerful documentary about the Middle East, the Taliban's effect on it's communities, and the struggles that women especially face in this region of the world.
It is a must-watch, not only because of how inspiring Malala herself is, but also because her father's support and determination provides much needed hope. He is a good reminder that the fight for women's rights in the Middle East is not something that women should be fighting alone.

One Day in the Haram
One Day in the Haram is an amazing documentary about Mecca (or Mekkah), the most visited city in the Middle East and home to the Haram, the final destination for Muslims traveling during the Hajj.
The documentary focuses on what it takes to run the Haram, a complex that receives millions of visitors a year, but what is really amazing about this Middle Eastern documentary is the astonishing footage of the Haram and the Muslims that are visiting it.
This is definitely one of the best documentaries about the Middle East, especially if you're looking for something that reflects the beauty and hopeful side of Islam, so definitely add it to your queue!

Unmasking Jihadi John: Anatomy of a Terrorist
Unmasking Jihadi John: Anatomy of a Terrorist is an unforgettable Middle East documentary about one of ISIS' most notorious executioners who terrorized the world with his recorded beheadings of Western captives in 2014.
Mohammed Emwazi, who the world came to know as Jihadi John, was actually a British citizen who turned on his own nation to join ISIS.
The documentary not only covers his devastating actions and how it affected the world, but also how he actually went from a boy with a lot of potential to a man bent on enacting revenge against those he hated.
Through his teenage years and young adult life, the British government shows how they tracked and followed him…and ultimately captured him.
If you're looking for a Middle East documentary about ISIS and one of their most terrifying tactics, this is definitely the one to watch.

Wild Arabia
If you're looking for a documentary about the Middle East on Netflix that doesn't focus on political turmoil or human rights violations, then Wild Arabia is your answer – and it is truly an amazing documentary.
The Arabian peninsula – comprising of Yemen, Oman, Qatar, Bahrain, Kuwait, Saudi Arabia, and the United Arab Emirates is an astonishing place with geography and heritage that will blow your mind.
This 3-part documentary series takes you all over Arabia, from the Great Arabian Desert to the astonishing city of Dubai. You see the one-of-a-kind wildlife that inhabits this extreme terrain, as well as some of Arabia's most famous pastimes, like camel racing and falconry.
And of course, the impact of the discovery of oil has created an amazing opportunity for a desert city to turn into a global hotspot.
Wild Arabia is definitely one of the best documentaries about the Middle East with a perspective that is hard to find in other documentaries…but is one that you will truly appreciate!

Saudi Arabia Uncovered
Saudi Arabia Uncovered takes a look at the dark side of one of the Middle East's most well-known and powerful nations – Saudi Arabia.
This extremely secretive nation has managed to hold an immense amount of power by agreeing to provide information regarding terrorism to other democratic nations like Great Britain and the US – a relationship that is highly controversial, to say the least.
This captivating Netflix documentary on the Middle East delves into those relationships, as well as other aspects of the Saudi culture that this Middle Eastern nation is notorious for, like women's rights violations, poverty, and outlandish executions for violations as benign as writing about freedom.
Without a doubt, this Saudi Arabian documentary is a must-watch for anyone interested in the Middle East. As an added bonus, it's one of the few documentaries about the Middle East on Netflix, so if that's your source of entertainment, then definitely add this one to your queue.

The White Helmets
The White Helmets is a heart-wrenching documentary about the war in Syria and the devastating effect it is having on the civilians.
The film follows the White Helmets, a group of civilians who work as rescuers to help their Syrian neighbors each and every time a bomb is dropped on their home – which tragically happens every single day.
This Netflix documentary about Syria is a really important reminder about how devastating wars abroad can be and how important it is to fight for fellow civilians everywhere.
The White Helmets is a Netflix documentary and it's pretty short, so if you can stomach war documentaries, you should definitely add this one to your list.
Documentaries about the Middle East are fascinating, important, and highly relevant to our modern culture, so it's no wonder that new ones keep coming out. Keep checking back and we will add more great ones as we find them. Enjoy!

You may also be interested in:
---
Subscribe to our email list for notifications of new documentaries and what you should be watching!