9 Parenting Documentaries that Will Completely Change the Way You Raise Your Kids
Looking for some guidance or assurance on some of the most common parenting concerns out there? Maybe even some not-so-common concerns? Not matter what you're looking for, these parenting documentaries have your answer (and maybe even some more questions…).
The topics range from vaccines and breastfeeding to sports and food. There's something for everyone, whether you're raising boys or girls, babies or teenagers.
And I guarantee these parenting documentaries will absolutely change the way you think about your kids (and other parents).
So grab a cup of coffee (or wine) and pick a parenting documentary for your next flick!
---
Subscribe to our email list for notifications of new documentaries and what you should be watching!
Some links on this page many contain affiliate links. For more information, see our disclosure policy.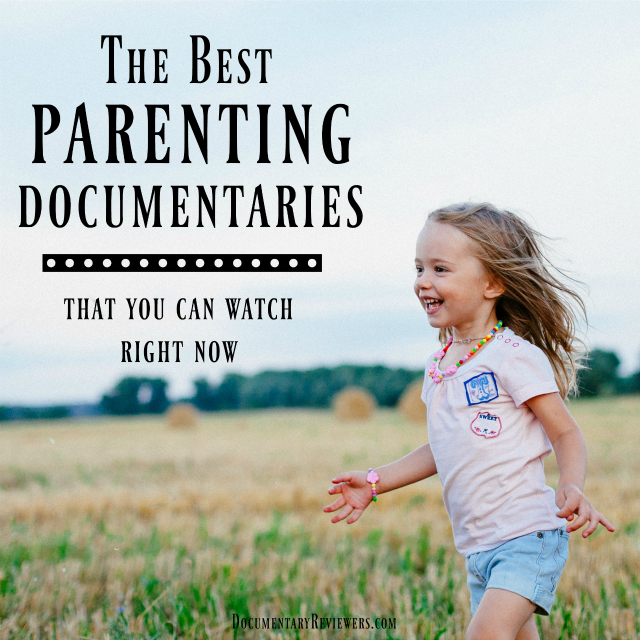 The Mask You Live In
If you are a parent to a boy, then The Mask You Live In isn't just a parenting documentary to consider – it should be required viewing. It's just that powerful.
Taking a look at the way we (as parents and society) raise boys, The Mask You Live In touches on sports, video games, pornography, rape culture, and gun culture and ties it all back to one important thing – how we raise our boys.
With so much focus on raising girls to be not-so-hyper feminine (bye-bye Disney princesses), it is often overlooked that we may still be unintentionally raising our boys to be hyper-masculine.
This documentary is unbelievably powerful and will without a doubt make you think twice about how you're raising your son, nephew, or little guy in your life.
The Social Dilemma
The Social Dilemma dives into one of the scarier aspects of parenting in today's world: social media. 
From a parenting perspective, this documentary is both eye-opening and terrifying. It explains the hidden intention behind the algorithms that control popular social media apps and shows just how much they can impact our lives – and more specifically, the lives of our teenagers.
One particularly powerful piece of this documentary are various interviews with men and women who were part of the original inception of social media, but now are in a fight to regulate it.
This parenting documentary will definitely make you think twice about how you handle social media, both for your children and yourself.
This is a must-watch for parents with growing kids, so add it to your queue!
Fed Up
Fed Up is one of the top food documentaries out there, with an extra special focus – our children.
This documentary looks at the youngest generation of kids – those with the highest rates of childhood obesity – and dissects why this is happening.
Some of the facts about kids living in poverty, and especially facts stemming from the public school system, are especially difficult to stomach (like the fact that french fries and pizza are classified as vegetables).
You will definitely feed your kids differently after watching this documentary!
State of Play: Trophy Kids
If you dream of raising a sports prodigy, watch State of Play: Trophy Kids. And if you don't dream of raising a sports prodigy…you should still watch Trophy Kids.
This documentary follows 5 families that are intensely involved in their children's athletic achievements.
There are times I wanted to jump through the screen and voice my opinion, so be prepared for some really rough scenes.
But no matter how you feel about this subject – whether you agree with the parents that are profiled, or disagree adamantly – this documentary about parenting young athletes will make you take a long, hard look at how you treat your kids.
Miss Representation
If you've got daughters in your life, then Miss Representation is the next parenting documentary you need to see.
This documentary focuses on the media's impact on society's perception of women…and it's pretty astonishing.
No matter what you think about opportunities for girls and women right now, you will feel differently after watching this. It's full of staggering statistics and dozens of examples.
It's an extremely eye-opening documentary and definitely one that every parent of girls should see.
Related post: 5 Empowering Documentaries Every Woman Should See
Chemerical
I didn't know what to expect with Chemerical, but was pleasantly surprised to learn a lot about the common chemicals found in our homes and more importantly, what happens when you cut those chemicals out.
So often we just assume any cleaning products we buy are harmless, when in reality, we may be suffering in ways we're not aware of.
Things like allergies, headaches, and fatigue may actually be caused by everyday household products!
Chemerical does a great job of not only laying out the facts, but also showing just how easy (and beneficial) it is to make the switch to chemical-free cleaning and personal products.
A Dangerous Son
A Dangerous Son is one of the most powerful documentaries about parenting that you will ever see…and it's an important one for all parents to watch, regardless of your circumstances.
The documentary focuses on 3 families that are struggling to raise children with severe mental health issues that cause them to be violent and aggressive, among other difficulties.
What is so devastating – aside from the obvious struggle of raising an aggressive child – is that these parents are forced to fight tirelessly for support and resources that often aren't available.
This documentary will absolutely change the way you think about other parents and about how important it is to fight for support instead of pointing fingers.
The Milky Way
The Milky Way has a clear and upfront mission: Figure out why more women aren't breastfeeding and find a way to help those that are to do it longer.
Despite the clear bias, this parenting documentary is full of facts that are both startling and insightful.
Breastfeeding is a touchy subject and most parents already feel strongly one way or another, but my bet is that you will still learn something from this breastfeeding documentary and it may actually change the way you feel.
Certainly, if you have a baby on the way or may in the future, The Milky Way is a good one to watch!
Vaxxed
When I turned on Vaxxed, I expected to see a biased parenting documentary with shock value, but little meat. I was intrigued, but not really expecting much.
Boy, was I wrong.
Vaxxed is one of the most eye-opening and definitely best parenting documentaries I've ever seen.
It manages to take a stance, yet still provide an unbelievable amount of data and facts.
It took what I thought was a black and white issue (you're either pro-vax or anti-vax) and turned it into a huge gray area with a lot of questions and decisions in the middle.
Regardless of your vaccination stance, I highly recommend you watch Vaxxed. It's a very important documentary that all parents need to see.
I hope these documentaries about parenting change your life for the better! Good luck and let me know if there's another parenting documentary out there that I need to watch!
You may also be interested in:
---
Subscribe to our email list for notifications of new documentaries and what you should be watching!