The Best Cult Documentaries to Leave You Shocked and Bewildered
There's something special about the best cult documentaries that keeps you completely glued to the screen. Maybe it's the charismatic leader, inevitable inappropriate behavior, or bizarre belief that ties them all together. Or maybe it's something more bizarre. Maybe it's the fact that seemingly normal people were sucked in…or that innocent children had no chance.
Whatever the draw may be, these cult documentaries are definitely addictive, must-watch films. They feature infamous leaders like Warren Jeffs, Michael Travesser, and Keith Raniere. And, without a doubt, they'll all leave you shocked and bewildered.
They're all worth adding to your queue, so cozy up, because it's going to be a bone-chilling weekend!
---
Subscribe to our email list for notifications of new documentaries and what you should be watching!
---
Some links on this page many contain affiliate links. For more information, see our disclosure policy.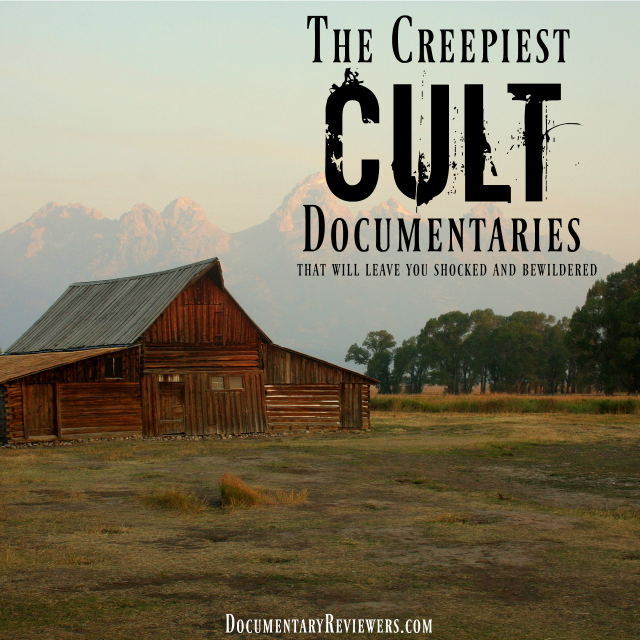 Jonestown: Paradise Lost
When it comes to documentaries about cults, Jonestown: Paradise Lost has every single element of a terrifying cult scenario.
This documentary tells the devastating and harrowing tale of the Peoples Temple cult, led by Jim Jones.
Sadly, the Peoples Temple is most famously known for their mass suicide. It ended in the deaths of over 900 cult members, including 300 of their own children in their Guyana settlement of Jonestown.
This is one of the saddest documentaries you will ever see, but also one of the best cult documentaries available.
So grab your tissues and update your queue, this is a cult documentary you will not want to miss.
Wild Wild Country
If cult documentaries are what you're looking for, then Netflix's newest cult addition – Wild Wild Country – needs to move to the top of your queue.
Reliving the drama that unfolded decades ago in a small Oregon town, Wild Wild Country manages to tell both sides of the story in an incredibly captivating way.
Was Rajneeshpuram an innocent religion just trying to live in peace? Or were they a sex-driven cult attempting to take over the state of Oregon one town at a time?
As if being one of the best documentaries about cults isn't enough, Wild Wild Country is actually a docuseries that will keep you entertained for weeks (or at least one if you're really into it).
Add this one to the top of your Netflix queue!
Related post: Full Wild Wild Country Documentary Review
Cults and Extreme Beliefs
If you really want a feel for cults across the country, then Cults and Extreme Beliefs is without a doubt, the cult documentary for you.
This documentary series covers not just one, but SEVEN different cults…many of which you've probably never heard of.
The documentary kicks off with one of the highest-profile cults right now: NXIVM (their leader, Keith Rienere, was just found guilty of various crimes associated with this cult).
In addition to NXIVM, they dig into Jehovah's Witnesses, Children of God, UNOI, World Peace Unification Sanctuary, Twelve Tribes…and one of the most notorious cults, FLDS.
What is really amazing about this documentary series is that it finds a way to get a new perspective about the cults you've already heard of, in addition to covering completely new ones.
As far as cult documentaries go, this is absolutely one of the best…and it's a series, so it will keep you busy for a while! Definitely add it to your queue.

The End of the World Cult
If you want to see someone truly brainwashed, then The End of the World Cult needs to be your next cult documentary.
Led by Michael Travesser (also known as Wayne Bent), The Lord Our Righteousness Church in Strong City, New Mexico believed the world would end on October 31, 2007. In preparation for this life-altering event, they welcomed journalist Alex Hannaford to their compound to document their lives.
Without needing to dig around too much, Alex captures some pretty bizarre and disturbing stories. At one point, Travesser claims that God insists he sleep with his son's wife. And it just gets creepier from there.
But the weirdest – and most disturbing – part of this documentary is the fact that Travesser's devoted followers don't seem to understand what's really going on.  
The End of the World Cult is an absolute must-watch if you're interested in cult documentaries.
Inside a Cult: Messiah on Trial
What's the only thing better than a good cult documentary?
A cult documentary sequel!
That's exactly what Inside a Cult: Messiah on Trial is – a follow-up to The End of the World Cult (so watch that one first!).
The documentary tracks the fallout of crimes Michael Travesser admitted to in the first documentary. This includes the trial and sentencing, something you rarely get to see in the world of cults.
In addition to footage of proceedings, you meet former members of the cult that have come to see their one-time Messiah finally pay for his crimes.
If you were captivated by The End of the World Cult, then you will love this follow-up. Add it to the queue!
The Vow
If you really want to find out how unsuspecting, normal people get sucked into cults, then The Vow is the cult documentary for you!
This mind-blowing series follows a group of adults that spent years inside NXIVM, filming almost all of their interactions for their then pro-NXIVM film plans.
It took years for them to realize what was going on…followed by years to truly get out.
Even if you followed the NXIVM trials closely, you'll still be shocked by this series. The amount of detail provided is mind-boggling! From the seemingly good intentions to the truly disturbing acts going on behind closed doors, you'll get to see every piece of the puzzle that led to the ultimate fall of one of the most notorious modern-day cults.
This is definitely one of the best cult documentaries out there and a perfect addition to your queue!
Going Clear: Scientology and the Prison of Belief
While Scientology may have obtained religion status from the IRS, the rest of the world – and certainly the director of Going Clear: Scientology and the Prison of Belief – are out to prove otherwise.
And it's not a hard argument to make.
Not only are Scientology's beginnings bizarre and strange, but the current practices certainly embody what most people would consider to be near-criminal cult activities.
This documentary provides an unbelievably in-depth look into what goes on behind the scenes of Scientology. It's full of interviews and first-hand accounts from very high-ranking ex-members of the Hollywood-esque community, so you really get the inside scoop.
Going Clear: Scientology and the Prison of Belief is one of HBO's greatest documentaries. If you don't have HBO and want to give it a try, you can sign up for a 7-day free trial through Amazon right here → HBO 7-day Free Trial.
Related post: 4 Documentaries about Scientology that Will Completely Shock You
Sons of Perdition
Sons of Perdition is a truly captivating and heartbreaking documentary. It follows 3 teenage boys as they try to piece together lives after leaving (or being pushed out) of their FLDS community – a cult most known for their strict polygamous lifestyle, child brides, and being completely cut off from the rest of society.
Not only do these boys struggle to live without their families, they are also forced to navigate a world that they are totally unprepared for.
Throughout the documentary, you will not only become a champion of these boys that so badly deserve a fresh start, but will also get a detailed, first-hand look inside one of the US's most notorious cults.
My Scientology Movie
In My Scientology Movie, Louis Theroux provides an AMAZING glimpse into Scientology with a really unique perspective.
Not surprisingly, Theroux is barred from speaking to Scientology's inner ranks for this film. So he decides to create his own documentary of exactly what happens inside the cult…hiring actors and former cult members to help reconstruct events. 
High ranking ex-member Marty Rathbun plays a particularly important role in the documentary. His in-depth knowledge of the bizarre inner workings of the cult is invaluable. He recounts things like how they punish members, secret communication, and the tactics they use to harass ex-members. 
Even if you think you know all there is to know about scientology, you will still get a lot out of this film. It's informative AND really entertaining.
Of all the cult documentaries on Netflix, this is definitely one of the best! Add it to your queue.

Holy Hell
Holy Hell tells the story of the Buddhafield cult, an unsuspecting Hollywood cult led by Michel Rostand that managed to evade detection….well, basically forever.
What is so shocking about the Holy Hell documentary is realizing just how pervasive cults actually are. They don't all end like Jonestown or Rajneeshpuram with suicides or fugitives.
But they do often leave ex-members scrambling to piece together a life that they were robbed of. Which is exactly what happened to many of the former Buddhafield cult members that are featured in Holy Hell.
This cult documentary is weird and disturbing (with tons of inside footage), but will keep you captivated until the very end.
Children of God: Lost and Found
Children of God: Lost and Found may be somewhat of an amateur production (the producer, Noah Thomson, was a former member of the cult), but the perspective he provides makes it all worth it.
The details Noah provides about the essentially pedophile-run cult will sit with you for a long time.
Through countless interviews with himself and other former cult members, you realize just how devastating this environment was for them. With no education and a truly traumatic upbringing, they are left with little hope of a normal life.
If documentaries about cults interest you, then Children of God needs to make your list!
Prophet's Prey
Prophet's Prey takes an inside look at the Fundamentalist Church of Latter Day Saints (FLDS), a cult that leader Warren Jeffs has controlled for decades.
Infamous for polygamy and child brides, this cult is an offshoot of Mormonism, filled with controversy and disturbing, illegal activities.
This documentary is as fascinating as it is disturbing. It's definitely one to watch if you want to get your fill of cults and their power to destroy lives.
Prophet's Prey is a Showtime documentary, so if you don't have Showtime but want to give it a try, you can get a free 7-day trial from Amazon Prime here → Showtime 7-Day Free Trial.
I hope you enjoy these cult documentaries! They really show how powerful – and devastating – a charismatic leader can be.
You may also be interested in:
---
Subscribe to our email list for notifications of new documentaries and what you should be watching!