The 19 Best Netflix Docuseries to Move to the Top of Your Queue
Ever wish a really good documentary could last just a bit longer? It seems most of us do and Netflix has caught on, creating some of the best Netflix docuseries that keep you completely glued to the screen for weeks at a time.
In fact, some of these documentary series are so unbelievable, they keep finding their way on more and more of our Best Of Lists.
So forget clearing your Sunday – for these, you'll need to get ready to cozy up every single night of the week…if not more.
But trust us, it will be worth it! These docuseries are the best out there and totally worth the time it takes to finish them.
Enjoy!
---
Subscribe to our email list for notifications of new documentaries and what you should be watching!
Some links on this page many contain affiliate links. For more information, see our disclosure policy.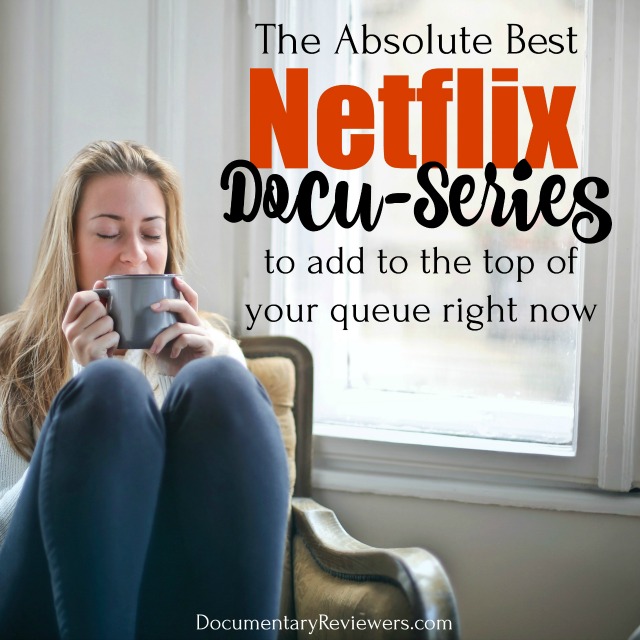 Making a Murderer
Netflix's documentary series claim to fame all started with this one – Making a Murderer.
And let me tell you, they knocked it out of the ballpark!
Making a Murder tells the unfortunate tale of Steven Avery, a man falsely accused and imprisoned…potentially twice.
They did such a good job digging into the facts that the documentary ultimately played a huge role in the fate of those that are featured…but you'll have to watch to find out!
This is definitely one of the best Netflix docuseries out there, but also one of the best true crime documentaries that you can find, so you will definitely enjoy. Add it to your queue!
Related post: 10 True Crime Documentaries that Will Completely Blow Your Mind
Chef's Table
For years I avoided Chef's Table. How could it possibly be exciting? There's only so many cooking shows you can watch, right?
Wrong. So, so, so wrong.
Chef's Table is AMAZING. It is the dark horse of documentary series. So good that Netflix came back and back and back again to add FOUR seasons.
Somehow, they are able to turn a documentary about a world-renowned chef into something so exciting that you won't be able to change the channel AND you'll be trying to figure out how to travel to a tiny town in Italy just to try a new restaurant.
This one is perfect when you don't want something intense, but still need to give your mind a break.
Definitely add this one to your queue! You need to give it a try!
The Keepers
The Keepers chronicles the unsolved murder of Sister Catherine Cesnik.
But what starts as a murder mystery quickly turns into a disturbing conspiracy involving the church, a priest, and a slew of other surprising characters.
Every episode of this docuseries will leave you completely shocked.
Just when you think you know the storyline, something unbelievable happens.
This is definitely one of Netflix's best documentary series, so push it to the top of your queue!
Wild Wild Country
What makes a cult a cult? Wearing red everyday, disavowing marriage, and moving to a newly constructed commune in the middle of nowhere? That's all it took for Oregon residents in the 1980's to label Rajneesh Puram a cult and they worked tirelessly to disassemble the "peaceful" community.
But that's not even half of the story that Wild Wild Country lays out. The cult aspects of this community are interesting and entertaining, but what really makes this documentary docuseries-worthy is the town takeover, mass poisoning, attempted murder, fugitive chase…and yeah, the fact that they all wear red everyday.
On top of the story, Netflix did an amazing job amassing the best and most critical narrators, traveling to Australia and Switzerland to get important perspectives.
This is a great original Netflix docuseries that will leave you bewildered just about every night.
Related post: 8 Cult Documentaries that Will Leave You Shocked and Bewildered
Don't F**K with Cats
Don't F**K with Cats is a mind-boggling mix of bizarre storytelling and shocking true crime, with an ending that you just won't believe.
This new Netflix docuseries follows a group of internet friends as they decide to hunt down a perverse internet user who posted a video of himself killing cats.
Tracking down an anonymous internet user is no easy task, but the story just gets more and more bizarre as the self-appointed detectives keep digging…including an even more disturbing video of the mystery man escalating his crimes in gruesome ways.
Including police tasks forces, an international manhunt, and multiple points of view, this Netflix docuseries is definitely one that you won't forget! Add it to your queue!
Dark Tourist
David Farrier hit a homerun with his bizarre documentary Tickled, so it's no surprise that his newest docuseries, Dark Tourist, is just as bizarre, funny, and interesting.
Each episode features a different area of the globe where David visits dark tourist destinations – places like infamous murder scenes, nuclear disaster sites, haunted woods, and narco-tours.
Basically, anything that has to do with crime, death, or fear.
What makes this documentary series so great though is not just the unique subject matter, it's the comic relief that Farrier provides, which is critical with such "dark" topics.
Dark Tourist is definitely a dark horse in the world of docuseries and definitely worth adding to your queue!
Related post: 12 Bizarre Documentaries that You Need to See to Believe
Time: The Kalief Browder Story
Time: The Kalief Browder Story tells the tale of Kalief Browder, a teenage boy falsely imprisoned for something he didn't do.
That alone is enough to devastate someone's life, but what Kalief ended up enduring during his 3 year stay at New York's infamous Rikers Island is more than anyone would be able to handle.
After watching this Netflix docuseries, you'll definitely start to think differently about both our justice system and prison system.
This is without a doubt one of the best Netflix documentary series currently available, especially in the true crime niche. Add it to your queue!
Murder Mountain
Murder Mountain is one of Netflix's newest docuseries and it's a great one.
Transitioning from past and present, it tells the story of how marijuana took hold in infamous Humboldt county, California and more importantly, how this led to Humboldt's even more infamous name – Murder Mountain.
The political and social implications of marijuana are really fascinating, but the way that Netflix twists a true crime mystery throughout the docuseries is what makes this series a really addictive watch.
This is definitely one of the best Netflix docuseries, so add it to the top of your queue!
The Last Czars
The Last Czars, another new Netflix docuseries, tells about the lavish, complex, and tragic lives of Czar Nicholas II of Russia and his wife, Czarina Alexandra.
What makes this Netflix docuseries so outstanding though is the way they intertwine commentary from historians with a dramatic reenactment of the actual events.
You won't even realize that you're learning about Russian history because you will be so engrossed by the sensational lives of the Romanov family!
This is a fabulous Netflix docuseries that will teach you about one of the most important periods in Russian history in a way that you'll never forget.  It's an absolute must-watch documentary series. Definitely add it to your queue!
Dirty John
While not technically a documentary, Dirty John should absolutely be considered one. This mind-blowing true crime docuseries does an unbelievable job reliving the true stories of two notorious criminals – both of which you may remember from their media appearances.
The first, John Meehan, was a world-class con artist with an inability to take no for an answer. He successfully hid a sordid past (time and time again), until it ultimately caught up with him.
The second, Betty Broderick, was an ex-wife who couldn't move on – whether by fault of her own, or at the hands of a disturbingly narcissistic ex-husband – is for you to decide.
Whether you're familiar with these true crimes or not, this is a Netflix docuseries that you won't be able to turn away from. Add to your queue and get cozy!
The Sons of Sam: A Descent into Darkness
Netflix has once again outdone themselves with the release of The Sons of Sam: A Descent into Darkness, a look into the notorious crimes of David Berkowitz…and the likely theory that he may not have acted alone. 
Berkowitz has long been recognized as one of the country's deadliest serial killers, haunting New York City for well over a year. But, for the most part, he's also been recognized as the lone gunman in each of his murders.
That doesn't hold up with career investigator Maury Terry, who dedicated his life to proving that Berkowitz did not, in fact, act alone…and the evidence that Terry emasses is enough to convince quite a few.
From satanic cults to equally-notorious killer Charles Manson, this Netflix docuseries takes you on a wild ride and may leave you thinking that one of our most notorious serial killers may not actually be who we think he is.
Living Undocumented
Netflix has an unbelievable way of putting together amazing documentary series' and they've done it again with Living Undocumented.
This powerful docuseries follows different immigrant families that are living in the US undocumented as they grapple with devastating changes to immigration policy.
Some of them have been living in the US for decades, paying taxes, owning homes, and having children…all to find out that they must now leave.
Some fled persecution and death threats, found refuge in the US, and then were blindsided by their protective orders being reversed.
And others were brought here as infants, with no memory of their birth country, and are now faced with terrifying futures.
Throughout this Netflix docuseries, you'll be shocked by the intricacies of our current immigration policy and have a better understanding of exactly who it is affecting.
This is definitely one of the best Netflix docuseries of 2019 and one that everyone should see. Definitely add it to your queue!

The Staircase
Before Netflix brought docuseries' to the forefront, there was The Staircase – one of the first amazing true crime documentary series' that showed the grueling and unforgiving nature of the criminal justice system.
But The Staircase – which profiled the trial of novelist Michael Peterson – isn't just an amazing classic.
With the addition of 2 original follow-up episodes AND 3 more final Netflix-produced episodes, The Staircase takes you over more than 15 years of the Peterson family's fight.
This is an amazing documentary series that Netflix has given new life to. Definitely add this one to your queue!
Trump: An American Dream
Whether you love him or hate him, Trump: An American Dream is a really fascinating and eye-opening documentary about our current president.
Starting with his young adult life and first major real estate purchase, you get to see who Trump was in the early years…and every decision, life event, and circumstance that led him to where he is today.
There were three marriages, dozens of random investments, real estate, casinos…and an interest in the presidency from a very early age.
I was so surprised by how much I enjoyed this Netflix docuseries and about how much I learned about Trump, for better or worse.
This is a must-watch docuseries for pretty much everyone! Definitely add it to your queue!

Abstract: The Art of Design
Abstract: The Art of Design is a Netflix original documentary series for viewers who want to become inspired with design.
Each episode showcases the work and thought processes of some of the best designers in the world.
The key takeaway is that good design is like an iceberg; 99% of the beauty is under the surface. By elegantly raising the iceberg above sea level, Abstract exposes the creativity behind some of the most well-known designs.
Did I mention it's entertaining at the same time?
Ever wondered how Air Jordan's became so popular for Nike? Maybe how a New Yorker artist comes up with a cover design? It is truly fascinating.
Each episode is a new industry or design concept which allows for selective watching or a diverse experience if you chose to watch them all.
Don't be afraid to let your mind wonder on topics you normally wouldn't choose. They may be the most interesting!
No doubt Abstract belongs in your Netflix queue if you want to immerse yourself in the hidden world of design.
The Confession Tapes
Wow. Be careful who you talk to because you never know when your own words will be used against you.
At least, that's how you'll feel after watching one of Netflix's newest docuseries: The Confession Tapes.
The docu-series tells the unfortunate real-life accounts of people who were (or are) supposedly falsely imprisoned over confessions that were coerced or otherwise obtained illegally.
There's a lot of controversy surrounding this Netflix documentary series, which only makes it that much more of a must-watch! This one definitely needs to find its way onto your Netflix queue.
Rotten
If you've got a thing for food documentaries, then Rotten is the docuseries for you!
What's great about Rotten is that it's like 6 mini-food documentaries that you can watch one after the other.
And each covers a very specific topic – bees, peanuts, garlic, chicken, cows, and cod.
What's unique about Rotten, setting it apart from the vast majority of other food documentaries, is that it's focus isn't necessarily on our health.
Some of the episodes talk about small farmers and producers and how they are being influenced by the larger producers, others talk about how consumer trends drastically affect farming business practices (like with peanuts and milk).
This is a great docuseries to add to your Netflix queue!
Related post: 5 Documentaries Just Like Rotten
Evil Genius
Be prepared to have a couple restless nights with Evil Genius.
Bone chilling to say the least, this documentary series is about the Pizza Bomber heist of 2003.
Even to the FBI, this crime was nothing like they have ever seen.
Just when you think you understand where the case is going, this is another twist in the plot.
Netflix has really captured the true crime genre and what a perfect documentary to ensure it dominates.
It's bizarre. It's horrific. It's scary. It will sink you into the darker side of humanity without a life vest.
If Evil Genius is not in your queue now, go add it.
Africa
You may think that a nature documentary series just can't possibly keep you glued to the screen or captivated for very long….but before you settle on that belief, try watching Africa first.
Of all continents to pick, Africa is certainly the most diverse, breath-taking and spectacular. I'm telling you, you're not going to believe some of the stuff you see and you WILL want to plan your next safari or excursion.
One of the greatest things about this Netflix documentary series is that it will not only captivate you, it will lower your blood pressure and relax you…which is a pretty powerful reason to add this docuseries to your queue!
I hope you get a chance to watch each and everyone of these amazing Netflix docuseries! Netflix knows they're onto something good, so check back frequently because we'll be the first to watch any new ones that are released.
You may also be interested in:
---
Subscribe to our email list for notifications of new documentaries and what you should be watching!