Unbelievable Movies based on True Stories that Deserve Documentary Status
Sometimes on my search for great documentaries I come across amazing movies based on true stories that aren't quite documentaries…but are close enough that they should be. They re-enact the real life drama that played out over the course of someone's life, an event, or a global catastrophe….and they're absolutely amazing.

They tell the true story and they teach real lessons. And sometimes, the best way to tell that story is to just turn it into a true story movie. They're good enough to watch, even for the most critical documentary lover, I promise!

So sit back and enjoy one of these big-screen movies based on true stories that are good enough to deserve documentary status.

---
Subscribe to our email list for notifications of new documentaries and what you should be watching!
---
Some links on this page many contain affiliate links. For more information, see our disclosure policy.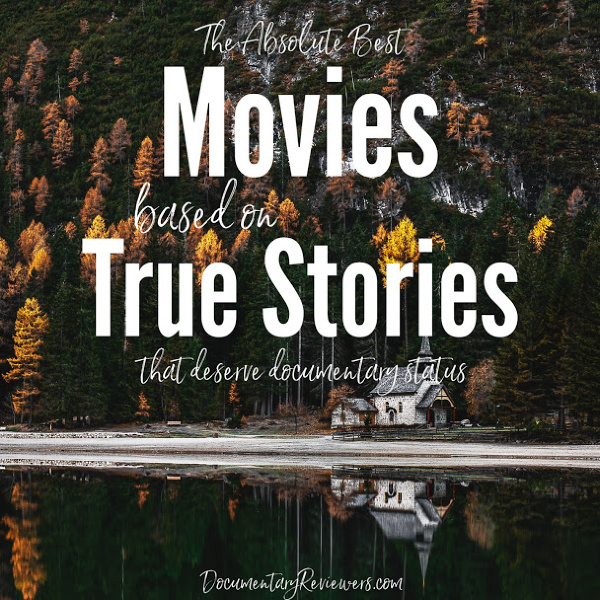 Chernobyl
I strayed away from Chernobyl initially because I really felt like there should be an actual documentary about it. But then I read that it was the first show to receive higher ratings than both Game of Thrones and Breaking Bad (HBO's current record setters) and it was done from there…I had to watch it.
WOW, I can't even tell you how glad I am that I did.
Chernobyl is amazing. It's definitely one of the best movies based on a true story that I've seen (it's actually a whole miniseries!) and in fact, it is the reason for this entire list – it's that good!
The true life series tells about the moments and years following the Chernobyl disaster, a nuclear meltdown in Russia in the 80's.
You may already know a lot about Chernobyl, but I guarantee you'll still learn something and really find this true story movie amazing.
If you already have HBO, add this to your queue immediately! And if you don't, add this to the list of reasons to give them a try (you can get a free trial of HBO through Amazon right here).

When They See Us
When They See Us is without a doubt one of the best Netflix movies based on a true story and one that everyone needs to watch.
Produced by Ava Duvernay, the brilliant producer behind the documentary 13th, this should-be-documentary recounts the devastating story of the Central Park 5, a group of boys that were wrongfully convicted of a horrific rape in 1989.
Their story is disturbing on so many different levels and Duvernay does an amazing job showcasing just how much their lives were ruined…both during their unfortunate prison stays and after.
This true story movie is on Netflix, so add it to your queue! It's an absolute must watch for everyone!

Spotlight
Spotlight is definitely one of the best movies based on true stories – good enough to win the Academy Award for Best Picture (so you know it's worth watching!).
The film tells the gut-wrenching story of the Boston Globe's investigative journalist team that painstakingly uncovered details that led to uncovering the Catholic Church's coverup of their own priests' sexual abuse of children.
By now, we are all aware of the scale of this disturbing cover-up, but there was a time when no one thought it could even be possible…until these journalists pushed and pushed for answers.
This is definitely a true story movie worth watching and one that will definitely blow your mind.
Related post: 6 Documentaries about Religion that Will Totally Change Your Perspective

Mindhunter
Mindhunter is one of Netflix's ongoing docuseries' that tells the story of a brand new FBI task force setup in the 1970's to catch murders that struck more than once…a group they themselves begin labeling as "serial killers."
Through the docuseries, the group interviews dozens of now infamous serial killers and works to setup a profile to try and catch active murderers that are on the loose.
If you have an interest in real-world serial killers, this true story series on Netflix is an absolute must watch!
They do an amazing job portraying the actual murderers, from their bizarre habits to the specific way they look. You will love this…and it's an ongoing series, so there's more to come!

Dirty John
With 2 binge-worthy, suspenseful seasons, Dirty John is without a doubt one of the greatest based-on-real-events true crime series. 
Each season focuses on a notorious criminal – the first, John Meehan and the second, Betty Broderick.
John Meehan's claim to fame comes from his disturbing ability to con his way into anything…and then crueling and deceptively avoid any punishment when his lies begin to unravel. Meehan's infamous story led to the instant success of the series…which then led to Season 2 – and Betty Broderick's equally notorious, albeit more gut-wrenching, story.
Betty's story received national attention and calls into question the threshold for mental abuse in a relationship and the devastating impact a divorce and custody dispute can have on a person.
Both of these seasons will have you glued to the screen and may bring back memories of when the crimes actually occurred.
Definitely add them to your queue and cozy up for a full weekend binge-session!
Extremely Wicked, Shockingly Evil and Vile
Extremely Wicked, Shockingly Evil and Vile is a brand new Netflix movie based on the true story of infamous serial killer Ted Bundy.
While there is also a great Netflix documentary on Ted Bundy that is absolutely worth watching, what is really great about this true story movie is the unique perspective.
The film focuses not nearly as much on Bundy's crimes as it does on his relationship with long-term girlfriend Liz, which is shocking all on it's own considering how many women he brutally murdered.
There are some pretty big exaggerations in this movie, but of course that is what makes it an enjoyable film.
My bet is that after watching this true crime movie, you'll head straight for the full documentary! Which you SHOULD. 😉
Related Post: 14 True Crime Documentaries that Will Completely Blow Your Mind

The Founder
The Founder is an amazing movie based on the true story of Ray Kroc, the man who is credited with founding McDonald's (though as you'll see, that may not be 100% accurate).
This movie is extremely inspirational for entrepreneurs, but it's also very, very fascinating because Ray Kroc's rags-to-riches story isn't what you'd expect.
For example, he actually isn't one of the original McDonalds!
None-the-less, he was a hard worker, clever, and did in fact turn a tiny burger stand into a behemoth multi-national chain.
This is a really great true story movie that any documentary lover will love!
Related post: The Absolute Best Documentaries for Entrepreneurs
The Big Short
If you're still not quite sure what led to the financial crisis of 2007-2008, then The Big Short needs to be next on your list.
This movie is based on true events leading up to the crisis and follows some of the few people that seemed to know it was coming (and took the opportunity to profit from it).
The movie does a really good job explaining some really complex financial principles that were at play during this time and actually makes the movie a really exciting watch.
This is a great movie based off of a true story that affected just about all of us…so it's something we really should all understand!

Hotel Rwanda
Hotel Rwanda tells the devastating story of the Rwandan genocide of 1994 through the eyes of Paul Rusesabagina, a hotel manager who himself is Hutu, but is married to a woman that is Tutsi.
When war breaks out, all Tutsis are targeted, putting Rusesabagina in a harrowing position to try and save his family and neighbors, using the hotel as a safe harbor.
This is one of those true story movies that you just can't believe is true, especially in our modern era. It is definitely one to add to your Netflix queue!
Related post: Unbelievable Documentaries about Africa that You Need to See
I hope these movies based on true stories keep you captivated and looking for more…documentaries! These are as close as you can get to being real. And sometimes, that's even better. 😉

You may also be interested in:
---
Subscribe to our email list for notifications of new documentaries and what you should be watching!