5 Documentaries Just Like Rotten
Netflix knew what they were doing when they released their latest docu-series, Rotten.  Interest in our health and the food we eat is on the rise and Rotten sheds light on a variety of issues that most watchers didn't even know existed (I certainly didn't)!  Lucky for us, there are a slew of documentaries like Rotten that we can fill our Netflix queue with to continue our quest of learning about the food we eat.
Here we go!  The best documentaries like Rotten that you can start watching right now:
---
Subscribe to our email list for notifications of new documentaries and what you should be watching!
Some links on this page many contain affiliate links. For more information, see our disclosure policy.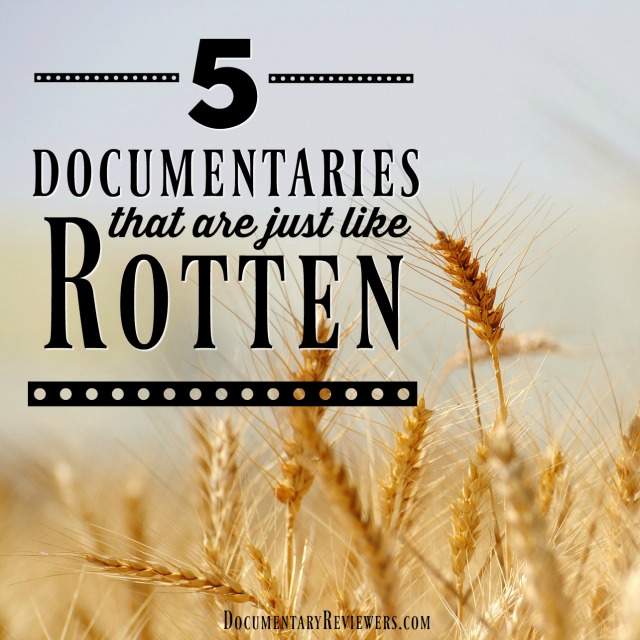 Forks over Knives
For a 90-minute documentary, Forks over Knives packs a ridiculous amount of facts into the film.
What is so startling about Forks over Knives is the raw data they provide about our health, and more specifically, how it is affected by the consumption of meat and dairy.
You will without a doubt change the way you eat after watching Forks over Knives.
Even with an expected amount of bias, it's hard to deny many of the facts they lay out about the food we eat.
Forks over Knives is definitely a documentary worth watching.
Related post: Forks over Knives: A Full Review
Blackfish
While not about the food we eat, Blackfish is an extremely eye-opening documentary about an industry that that many of us overlook: amusement parks.
The main focus of Blackfish is on the treatment of killer whales at Sea World, including how they are caught, captured, housed, and cared for by the behemoth company.
If you're an animal-lover, be prepared to shed a few tears.  But also take comfort in knowing that this documentary was so powerful it ultimately changed policy and laws surrounding the treatment, care, and captivity of killer whales.
Food, Inc.
Food, Inc. was one of the first investigative documentaries that lifted the veil on how our food is created, treated, produced, and marketed.
There is a strong focus on the treatment of animals and workers that find themselves victims to these industries. It is gut-wrenching material, so be ready with tissues!
In addition to the devastating facts that come with the truth about our food, Food, Inc. sheds light on laws that protect not our food, but the companies that produce the food.
The overall message of Food, Inc. is simple – you should know where your food comes from.
This message alone is enough reason for everyone to watch this documentary, but the truth is that it's a great production even aside from that.  Add this one to your queue!
Related post: Food Inc.: A Full Review
The True Cost
While not about the food we eat, The True Cost is another great documentary like Rotten that uncovers the truth about an industry that most of us take for granted – fast fashion.
You may not even realize that the clothes you're wearing have come from the world domination of fast fashion, but odds are that a good portion of your closet does.
What does this mean?  A whole lot of bad things for most of the world and a whole lot of profit for a small portion.
But the details are startling – and disturbing.  This documentary is another must-watch to add to your movie queue!
What the Health
What the Health is one of the more recent food and health documentaries, with a strong focus on the industries that are supposed to be helping us and the heavy influence that they face from the industries that may be harming us (like meat and pharmaceuticals).
What the Health is definitely compelling.  You will almost surely rethink the way you eat and have a more skeptical view of what you see or read.
This is definitely a documentary like Rotten in that it opens your eyes to the insane amount of control that large companies have – even when it's to our detriment.
I hope you get a chance to watch each and everyone of these documentaries!  Enjoy. 🙂
You may also like:
10 Documentaries that Will Make You Happier, Healthier, and Wealthier
---
Subscribe to our email list for notifications of new documentaries and what you should be watching!