8 Empowering Feminist Documentaries Every Woman (and Man) Needs to See
Nothing provides more instant motivation than a good documentary…and these empowering feminist documentaries are some of the finest!  They'll inspire you to take action in your own life and draw attention to unbelievable battles happening all over the world. Most importantly, they shine a light on some of the strongest women in existence.
From home-grown activists like Gloria Allred to international role models like Malala Yousafzai, it's unbelievable to see what some people will do (or have to do) in the name of feminism.
Whether you're an activist or couch potato, its time to get cozy. You won't want to stop watching these empowering feminism documentaries about people that are changing the world.
---
Subscribe to our email list for notifications of new documentaries and what you should be watching!
---
Some links on this page many contain affiliate links. For more information, see our disclosure policy.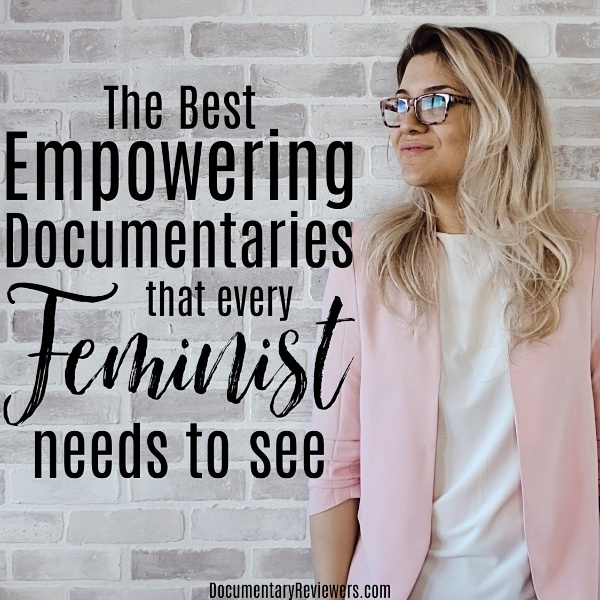 Miss Representation
Of all the feminist documentaries about women, none are more important and relevant than Miss Representation. This should be a must watch for everyone….truly.
The focus of the documentary is on the media's portrayal of women. And more specifically, how that impacts the way they are treated in society.  
So much of what we see is subtle. Yet it has a huge impact on the way we think about and treat women.
This feminist documentary is extremely insightful. It will definitely make you think differently about the world and how you carry yourself. Add this one to your Netflix queue!
Seeing Allred
Gloria Allred isn't quite a household name, but those that do know her probably have a misguided view of the lawyer, activist, and feminist icon.
Gloria is most famous for defending women that have been assaulted or harassed by famous celebrities. (The women filing suits against Bill Cosby and Donald Trump were defended by Gloria). Unfortunately, this leaves her often (and wrongly) portrayed as a money-hungry man hater…something that just isn't true.
Regardless of your current view of Gloria, you need to watch Seeing Allred.
From the very beginning, Allred has been a advocate for civil rights. She was a pioneer for women's rights in areas we now completely take for granted. She is a true feminist that has spent her whole life fighting for women.
After this documentary, you'll gain immense respect for Gloria Allred. You'll also be motivated to find your own battles to win. That's just how powerful this film is.
LFG
It's hard to believe we're still having this debate. But LFG is about to get your feminist fire raging over the far-too-long battle over equal pay. 
Told from the very women who are on the front lines of this battle, LFG chronicles the high-profile court case between the US Women's soccer team and their employer – the US Soccer Federation.
Despite being possibly the most well-known female athletes in the country – and far surpassing their male counterparts in success and fame – the female team is paid a fraction of the men…despite raking in more ad revenue and trophies.
This is an absolute must-watch feminist documentary. It covers an issue that desperately needs resolution. Add it to your queue pronto!
Knock Down the House
Knock Down the House, one of Netflix's own feminist documentaries, is another film that every single little girl needs to see.
Following now-famous Alexandria Ocasio-Cortez and three other influential women, you are able to see the passion and sacrifices they made to run for Congress…and the impact that their fight had for us all.
This is a truly inspiring documentary that is extra special since it is so relevant to our current politics.
In the world of feminist documentaries, this one is a must-watch!

Saudi Women Driving School
If ever there were a place in desperate need of a feminism, it would be Saudi Arabia. Saudi Women Driving School takes a look at that movement and the important step they took to allow women to drive (because, up until 2017, women could. not. drive.).
While this is a huge step for Saudi women, there's still so much progress to be made…which this documentary highlights in more than one way.
The next important step? Ending the guardianship law that requires all women to have a male legal guardian…one who needs to provide permission for everything.

Finding Traction
In Finding Traction, Nikki Kimball, ultra-marathon superstar, attempts to break the record for completing Vermont's 273 mile Long Trail…a record that is currently held by a man.
The documentary is a testament to the strength of women, but more interesting is the insight you get into the biology of women vs. men…at least, when it comes to running.
Nikki is also a strong activist for female athletes and the documentary touches on the extreme inequity that women face in just about every sport, including running.
This is a wonderfully empowering documentary for women and, if nothing else, it will certainly motivate you to get out and run! Definitely add it to your queue.
Related post: The 4 Best Running Documentaries that Will Turn You into a Marathon Runner
City of Joy
City of Joy tells the inspirational and devastating story of thousands of Congolese women who have been sexually assaulted and terrorized.
After seeking care from a lone doctor who has made it his mission to help these women, they are given the opportunity to enter the City of Joy. This refuge is a place for these women to heal, recover, and receive training that will empower them and turn their pain into strength.
The stories these women tell will stay with you for a long time. But that only makes City of Joy that much more powerful.
This is definitely one of the best feminist documentaries out there. It's an inspirational reminder that women all over the globe have the power to transform their environments.
Related post: The Absolute Best Documentaries about Africa
He Named Me Malala
When it comes to documentaries about women changing the world, He Named Me Malala should be your first stop.
Most of us remember hearing of Malala Yousafzai when she was shot in her home of Pakistan by the Taliban…for simply going to school.
This empowering documentary recounts that part of Malala's life. But more importantly, it shows the fight that Malala has led after, and even before, that fateful gunshot.
Just as powerful as seeing one of the world's most prominent young feminists is learning about Malala's father. His role in her activism and fight is critical.  Malala may be strong on her own, but her father is an inspiring lesson for what men can do for the women in their lives.
I hope these feminist documentaries spark some motivation in your own life…or at least provided an inspiring night with Netflix. Enjoy!
You may also be interested in:
---
Subscribe to our email list for notifications of new documentaries and what you should be watching!