The Best HBO Documentaries to Add to Your Queue Right Now
HBO has a reputation for creating some unbelievable shows and their original HBO documentaries are no exception! With access to amazing people, truly gifted film-makers, and a drive to push the limits, these documentaries are some of the best out there.
Of all premium networks, none have produced as many documentaries as HBO and they've covered just about every subgenre you could ask for, from true crime and biographies to lifestyle and sports.
If you want to endeavor to watch every single HBO documentary like we have, then you're in for quite a treat! But if you'd like to skip to just watching the best HBO documentaries out there, then we've got you covered. That's what this list is all about!
And if you're still trying to decide if an HBO subscription is worth it, you can sign up for a free trial through Amazon right here → HBO 7-day free trial.
Time to sit back and enjoy!
---
Subscribe to our email list for notifications of new documentaries and what you should be watching!
---
Some links on this page many contain affiliate links. For more information, see our disclosure policy.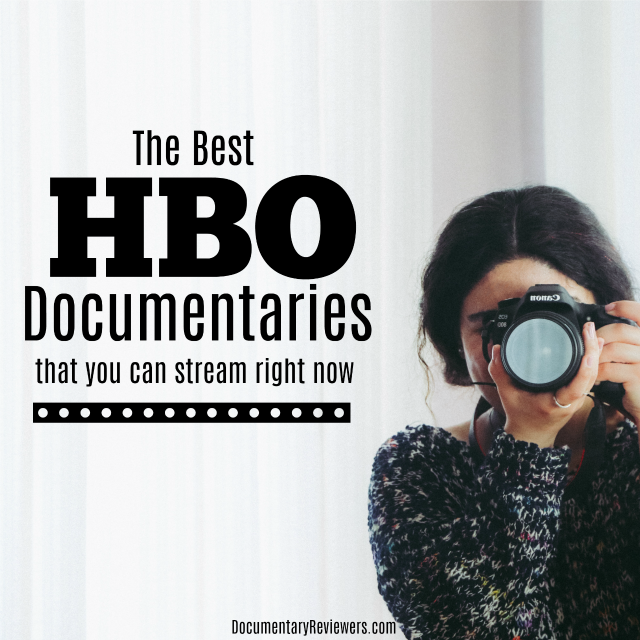 Becoming Warren Buffett
HBO really knocked it out of the ballpark with Becoming Warren Buffett.
Not only do you learn some amazing things about a truly amazing man, but you will be so, so, so inspired to fulfill your own dreams by working just as hard as he did.
This documentary is full of lessons from Warren Buffett himself, as well as insight into how exactly he made his fortune.
This is a great documentary, especially if you're an entrepreneur or looking for some career inspiration (but really, everyone should watch it!).
Related post: The Best Documentaries about Billionaires and Their Secrets to Success…or Failure
Mommy Dead and Dearest
Mommy Dead and Dearest is one of the craziest, most bizarre true crime documentaries you will likely ever see.
At the hands of her mother Dee Dee Blancharde, Gypsy Rose spent her entire childhood sick, handicapped, and fighting for life.
But disease or misfortune weren't the culprits. The cause of Gypsy Rose's fate was her actual mother.
And that is only the beginning of this true crime drama…and it only gets more bizarre.
This HBO documentary is one that you will likely never forget.
Related post: The 11 Most Bizarre Documentaries that You Need to See to Believe
Solitary: Inside Red Onion State Prison
Solitary: Inside Red Onion State Prison provides an unbelievable glimpse into the lives of inmates that have been incarcerated in a Virginia prison built exclusively for solitary confinement.
While the prison, cells, and "yard" are captivating all on their own, what is most shocking are the interviews with the inmates that provide possibly the best perspective of what a life in solitary confinement is like.
No matter what your stance or beliefs are, this documentary will make you think A LOT about the effectiveness of these types of prisons.
It's definitely a documentary that will stick with you long after you've seen it!
Related post: 8 Prison Documentaries that Will Make You Rethink Everything
Going Clear: Scientology and the Prison of Belief
When HBO released Going Clear: Scientology and the Prison of Belief, the world was just starting to realize that this celebrity religion may in fact be a very creepy cult…and this documentary only shed more light on the bizarre phenomenon.
By interviewing high-ranking ex-members, this documentary gives you a rare inside look at a very secretive group that supposedly does some pretty creepy things.
If you're knowledge of Scientology only extends to Tom Cruise's involvement, then this documentary will be eye-opening and jaw-dropping.
Related post: 8 Creepy Cult Documentaries that Will Leave You Shocked and Bewildered
Unmasking Jihadi John: Anatomy of a Terrorist
Unmasking Jihadi John: Anatomy of a Terrorist delves into the life of Mohammed Emwazi, the notorious ISIS terrorist that was responsible for a series of disturbing videos that were released to the world in 2014 and 2015 of gruseome executions of Western captives.
The world came to know Emwazi as Jihadi John because, in addition to his disturbing and devastating actions, his voice throughout the video was distinctly British…a fact that was an extra blow to the Western world that was trying desperately to end ISIS' reign of terror.
This HBO documentary does a great job of analyzing Emwazi's life and what they suspect led him into a life of terror.
There is also interesting insight into what the government is constantly doing to try and identify terrorists before they ever act…as well as what is done to ultimately capture them.
This is a great HBO documentary about one of the scariest realities of the world we live in. It's definitely one to add to your watch list.
Related post:The Best Middle East Documentaries on Religion, Life, and War
At the Heart of Gold: Inside the USA Gymnastics Scandal
At the Heart of Gold: Inside the USA Gymnastics Scandal tells the disturbing story of Larry Nassar and his decades of abusing young gymnasts, despite many attempts from the girls to get help.
While the scandal received a lot of media coverage, it wasn't nearly as impactful as this new HBO documentary.
Not only was the abuse disturbing, it was on such a grand scale you won't believe he managed to evade detection for as long as he did…especially with multiple accusations made against him.
This is a really well done HBO documentary that you will remember for a long time after seeing it.

Related post: The Best Documentaries about Con Artists, Scandal, and Imposters
The Inventor: Out for Blood in Silicon Valley
For quite a few years, Elizabeth Holmes was touted as the next Steve Jobs. The Inventor: Out for Blood in Silicon Valley tells the fateful story of her rise and subsequent demise.
Her dream was an admiral one – transform the healthcare industry by giving people more transparency and control over their own health.
Her invention was brilliant…except for the fact that it didn't actually exist.
The bigger problem, however, was that investors and the public weren't told this fact until way too late.
This is a great HBO documentary that provides the inside scoop on a story that many of us saw playing out in the news. It's definitely worth adding to your queue!

True Justice: Bryan Stevenson's Fight for Equality
True Justice: Bryan Stevenson's Fight for Equality is an amazing HBO documentary that chronicles the lifelong pursuit of Stevenson to draw attention to the discrimination and racial bias that is at play in American politics…and do all that he can to change it. 
From fighting for innocent men on death row to changing legislation to giving important recognition to innocent lynching victims of the past, Stevenson has dedicated every area of his life to the plight of true equality.
This documentary is not only inspirational and gut-wrenching, but also delves into important periods of American history that are often covered up and brushed aside.
This is a really powerful film and definitely one of the best HBO documentaries out there, so add it to your queue!

Tickled
When David Farrier started researching a competitive tickling competition, he knew he was onto something truly bizarre.
What he didn't realize was that things were only going to get weirder, creepier, and a whole lot more interesting.
Tickled follows his journey as he digs deeper and deeper into what is actually going on during these tickling competitions, and more importantly, what they are hiding.
This is truly one of the most bizarre documentaries you will ever see and definitely worth adding to your list.
Life According to Sam
Getting ready for a true tear-jerker that will certainly stay with you long after the film is over.
Life According to Sam follows Samson Berns, a young teenage boy afflicted by Progeria, a devastating disease that causes accelerated aging and a life-expectancy of 13 years.
His devoted mother, Leslie, is on a pursuit to find a treatment that will somehow help Sam and the hundreds of other children suffering from Progeria.
Between Leslie's unbelievable drive and Sam's inspiring outlook on life, you will be completely taken by this amazing family and what they struggle with each and every day.
Get your tissues and add this HBO documentary to your queue!
Related post: The Best Documentaries about Rare Diseases & Medical Mysteries
Believer
Believer is an exciting and inspirational film from Imagine Dragons lead man, Dan Reynolds.
A Mormon himself, Dan sets out with the audacious goal of changing the Mormon Church's stance on homosexuality, same-sex marriage, and the general attitude towards the LGBTQ community.
The Mormon Church has long been outspoken in their dissent of LGBTQ issues (which has contributed to the highest teen suicide rate in the nation), so this mission is not an easy one for Reynolds, but his determination and hope is truly inspirational.
Believer is a truly enjoyable documentary covering a very important issue…and some great songs from Imagine Dragons only make it better.
Robin Williams: Come Inside My Mind
As an ode and farewell to one of the most iconic comedians and actors of his day, Robin Williams: Come Inside My Mind takes you into the mind, not just the life, of one of the world's greatest actors and comedians.
Emotions don't just go up and down with this film. It will have you laughing, nostalgic, sympathetic, depressed, and maybe even shocked in only a span of minutes.
His death shocked America, exposing the sometimes true mental weights one can carry. It would be hard to watch and not reflect on your own life and identify some of the masks we all might be wearing.
HBO hit a homerun with this documentary and we all can believe the hype.
The Jinx
When Andrew Jarecki set out to produce The Jinx, there's no way he could have foreseen what would happen.
What starts out as a mysterious true crime docuseries quickly develops into nothing less of an undercover investigation.
To make things even more captivating, Robert Durst (the focus of the documentary) volunteers to be interviewed throughout the film.
This unique perspective is bizarre, fascinating, and at times even convincing.
If you have a sweet spot for true crime, then The Jinx absolutely needs to be on your list. It is a documentary like no other!
Mea Maxima Culpa: Silence in the House of God
Mea Maxima Culpa: Silence in the House of God is a startling and eye-opening look at the sex abuse scandal that has rocked the foundation of the Catholic Church.
From St. John's School for the Deaf (one of the most egregious large-scale sex abuse cases in the US) to the Vatican, producer Alex Gibney digs deep into who is really responsible and accountable for not just the crimes, but more importantly, the cover-up and mistreatment of victims.
This is a great HBO documentary that provides a lot of details about a very complicated scandal that never should have occurred…and could have easily been prevented.
HBO continues to produce some of the best documentaries out there, so check back often to see what has been added to this list. And if you love documentaries like we do, then you'll love your HBO subscription!
You may also be interested in:
---
Subscribe to our email list for notifications of new documentaries and what you should be watching!