9 Political Documentaries that Will Leave Your Head Spinning
It's hard to get away from politics these days…which makes it the perfect time to dive into some of these incredible political documentaries!
There's so many different facets to politics that there really is a political documentary for every person or mood – shock and awe, educational, terrifying, inspiring, and mind-boggling.
You can experience a blast from the past, an important turn of events, or a modern-day political battle.
No matter what your perspective or stance is, you're bound to get something out of these amazing political documentaries. Time to get cozy and update your queue!

---
Subscribe to our email list for notifications of new documentaries and what you should be watching!
---
Some links on this page many contain affiliate links. For more information, see our disclosure policy.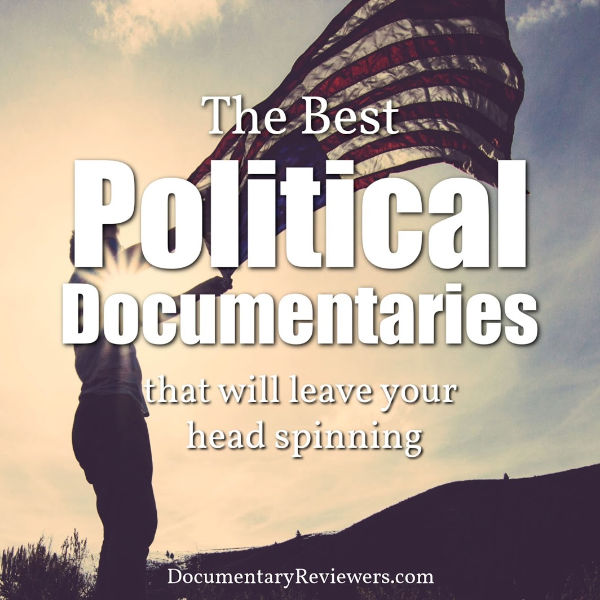 Get Me Roger Stone
Get Me Roger Stone is a really great political documentary that profiles a man that many of us didn't know until his work with Donald Trump, though he's been heavily involved in politics since Richard Nixon.
Roger Stone is quite a character, which helps to make the documentary more entertaining, but his work alone is impressive, even when it has an evil slant (which it often does).
Stone is credited by some as being a political genius and has been associated with massive shifts in political norms, for better or for worse.
This is definitely a must-watch political documentary on Netflix, so add it to your queue!
Living Undocumented
As far as political strife goes, immigration may be the most controversial issue of our time. And Living Undocumented lays out exactly why.
By following different families that are all living undcomented in varying circumstances, you can see exactly how immigration policy affects these immigrants, and possibly more importantly, why this is such a complex issue.
Of the immigrants profiled, there are families from Mexico, Honduras, Israel, Loas, and Mauritania. Some bring their children, some are pregnant, some have children that are US citizens, and some are even married to US citizens…but still can't find a pathway to citizenship.
Of all the new political documentaries on Netflix, this is definitely one of the most powerful and certainly one that you won't easily forget.

Trump: An American Dream
It doesn't get more political than a full scale docuseries about Donald Trump.
From the very early stages of his career, Trump: An American Dream tells the full story of Donald Trump and provides a glimpse into the factors that made him who he is.
This political documentary, ironically, doesn't cover his run for office or his time as President, but it is extremely insightful when it comes to understanding one of the most powerful men in the world.
Whether you love or hate Trump, this Netflix political documentary is definitely one to add to your queue! You'll have a way better understanding of what it takes to make a president…for better or for worse.
Related post: 15 Amazing Netflix Docuseries to Move to the Top of Your Queue
Fahrenheit 11/9
If you're a Michael Moore fan – and not a Donald Trump fan – then Fahrenheit 11/9 needs to be the next political documentary on your list!
In the film, Moore takes a look at the surprising factors that led to the rise of Donald Trump and his victory in the 2016 presidential election.
He also ties Trump's rise to the water crisis in Flint Michigan (this is another issue that this documentary does a great job explaining), as well as its connection to the mass shootings that are plaguing the country.
But the really shocking part of this political documentary is the eerie similarities that Moore finds between Trump and one of the world's most deadly and notorious leaders.
This is a great political documentary for anyone that follows current events or is looking for something relevant to today's current political climate. Definitely add it to your queue!
True Justice: Bryan Stevenson's Fight for Equality
True Justice: Bryan Stevenson's Fight for Equality is a powerful political documentary about Stevenson's pursuit to gain equality in the eyes of the justice system for all people, especially those that have been wrongfully convicted.
Through Stevenson's eyes, you see some of the major flaws of our political system that still enable discrimination to flourish…as well as the role that racial discrimination has played in politics over the last century.
Whether it is overturning a death sentence or giving an innocent lynching victim the recognition they deserve, Stevenson's work will make you think differently about how civil rights play out in our current political system.
This is definitely a political documentary to add to the queue!
Knock Down the House
Knock Down the House is a new Netflix political documentary of 2019 that features one of Congress' most well-known and controversial freshmen: Alexandria Ocasio-Cortez.
In addition to three other women that were all vying for seats in Congress, Ocasio-Cortez is followed during her campaign fight, showing exactly what it takes to upset an election from out of nowhere.
This is an empowering Netlfix documentary about politics in our current landscape where grass roots campaigns have the power to speak for everyday people and change the outcome of elections.
If you're a fan of AOC, then this political documentary is definitely for you! It's a little window into today's American politics.
The Family
The Family is another new 2019 political documentary on Netflix that will really push you hard to think about the relationship between church and state.
The docuseries traces the origin of "The Family," an organization (or non-organization as they like to refer to themselves as) that has penetrated Congress in an effort to spread Jesus' message…but with some controversy surrounding them.
Through strong relationships with Senators and Congressmen, the Family has spread their influence abroad, to regions and countries all over the world.
Their influence is strong at home as well. They host the annual National Prayer Breakfast, which has been attended by every President since Eisenhower, and have strong ties to Trump…as well as Russia.
This is a really interesting political documentary on Netflix that will introduce you to a new political player that you probably didn't know about! It's certainly a docuseries that will leave you thinking long after you've finished watching it.
Seeing Allred
Seeing Allred chronicles the life and amazing work of lawyer Gloria Allred.
While Allred is most famous for defending women against men like Bill Cosby and Donald Trump, her true accomplishments are far greater and go back for decades, where her dedicated work was able to enact important pieces of legislation that we today take for granted.
Allred is a women who has spent her life in politics, so this documentary has an important perspective that shows how much work it takes to truly launch a successful political career.
This is a great documentary about politics on Netflix, so if you haven't seen it, add it to your queue!
Related post: 6 Feminist Documentaries that All Women (and Men) Should See

Prohibition
If you're looking for a political documentary of a different era, then Prohibition may be the perfect choice.
This PBS docuseries details the decades leading up to (and during) the groundbreaking period of American history where the production and consumption of alcohol was completely outlawed.
The history of this period is fascinating, but what is really unbelievable is the politics involved in not only creating an Amendment to the Constitution…but then subsequently repealing it.
What is also eerie is to see that the politics during Prohibition is not too different than it is today, with two parties completely split on a single issue, neither wanting to budge an inch.
This is a great political documentary on Netflix that won't get you fired up and can definitely be watched with family and friends. Add it right to the top of your queue!
I hope you get a chance to see all of these documentaries about politics! You'll leave each one of them with new knowledge about how our government works (or doesn't). Enjoy!

You may also be interested in:
---
Subscribe to our email list for notifications of new documentaries and what you should be watching!