5 Must-See Civil Rights Documentaries about Racial Injustice
These civil rights documentaries will leave you completely blown away that our current society still contains so much racial injustice, from our court and prison systems to major media outlets to the prevalence of white privilege.
Certainly, the most disturbing acts of racial injustice occur when the criminal justice system fails to protect innocent people purely because of their race or the color of their skin. But there are other civil rights issues that occur in more subtle ways that may not be overt, but still wreak havoc on attempts to provide true equality.
All of these documentaries about civil rights and racial inequality will open your eyes to major flaws in our system, as well as some of the most egregious failures of society to provide protection and equality that is supposed to be accessible for everyone…regardless of race.

---
Subscribe to our email list for notifications of new documentaries and what you should be watching!
---
Some links on this page many contain affiliate links. For more information, see our disclosure policy.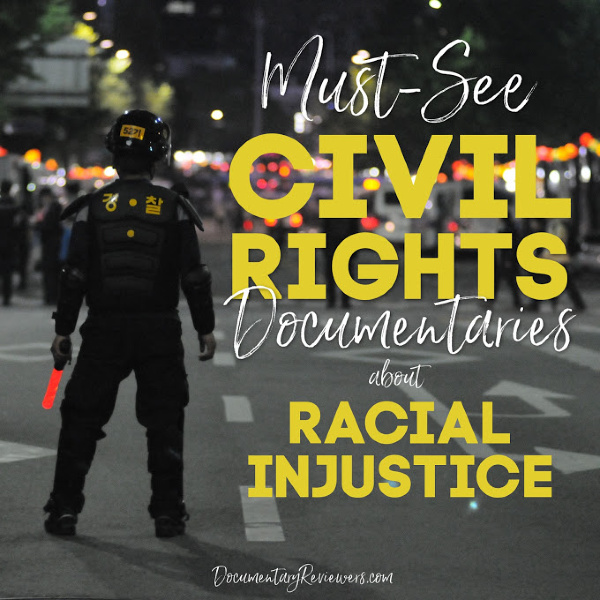 Time: The Kalief Browder Story
Time: The Kalief Browder Story is one of the most powerful civil rights documentaries about racial injustice of our time.
This Netflix documentary series tells the story of Kalief Browder, a 16-year old boy who was arrested for supposedly stealing a backpack – a crime he was never convicted of, or even brought to trial for.
Despite Kalief's exhaustive claims of innocence, he was held inside New York's Rikers Island jail for over 3 years, most of which was spent inside solitary confinement.
While at Rikers, he was assaulted, tortured, starved, and mentally abused…all as a teenage boy.
The number of injustices that Kalief faced through this ordeal is disturbing and astounding.
It is a sad and terrifying reminder that racial injustice is all too prevalent in our society and that too many people and organizations with power operate with little accountability for their crimes.
Related post: 6 Documentaries about Wrongful Convictions that Will Shock and Terrify You

13th
Ava DuVernay's 13TH is definitely one of the most powerful documentaries you will ever see and possibly the best civil rights documentary on racial inequality that you can get right now on Netflix.
One of the biggest takeaways from this documentary is how our current prison system has created and exacerbated racial inequality…to the degree that it's almost a form of modern day slavery.
But the facts, insight, and current events that DuVernay uses to build her case are so overwhelming that they will absolutely open your eyes to issues surrounding racial injustice that you didn't even realize were there.
This is a really important racial injustice documentary that everyone should see, so definitely add it to your queue!

True Justice: Bryan Stevenson's Fight for Equality
True Justice: Bryan Stevenson's Fight for Equality, a new HBO civil rights documentary, opens a door into the world of Bryan Stevenson, a lawyer and activist who has dedicated his life to providing equal justice for those who have been completely let down by the criminal justice system.
Stevenson's view and knowledge of the racism, discrimination, and inequity that are present in our current justice system will completely blow your mind. And the ties he makes to history (that this country as a whole has slowly forgotten) will move you to want to take your own form of action.
From saving innocent men from a death row sentence to giving innocent lynching victims a name and memory, Stevenson's work is profound and inspiring.
This is without a doubt one of the best civil rights documentaries about racial injustice in our current society.
It has such an important perspective that will teach you not only about today, but also about how our past has impacted where we are right now.

Hello Privilege, It's Me Chelsea
Chelsea Handler's first documentary about racial inequality, Hello Privilege, It's Me Chelsea is an interesting glimpse into the world of white privilege.
Even though Handler herself comes from a position of white privilege, there's a lot of insightful information that comes from various backgrounds and experience levels, from college professors and published authors to Southern historians and civil rights activists like the founder of Black Lives Matter.
Through different interviews and experiences, Handler is able to lay out the various levels of white privilege in a way that can help to explain something that can be very complex…and at times, so simple that we just miss it.
This is a great social justice documentary on Netflix that brings to light an important civil rights issue that is too often brushed aside, yet still present in so many areas of our lives.

The Central Park Five
The Central Park Five tells the devastating story of 5 teenage boys who were wrongfully convicted of a brutal rape in Central Park in the 1980's.
Before the boys even had a chance to defend themselves, the media had taken hold of the story and put full blame on them.
Even more disturbing is that these children were treated as adults, pushed farther than they should have been, and treated unfairly every step of the way.
What followed was enough to ruin all of their lives, as well as their families that fought relentlessly alongside them.
Their story is a difficult reminder of not only how prevalent racial injustice is in our culture, but how devastating it can be for those who fall victim to it.
This is an important racial injustice documentary to see and once you're done, you should follow it up with Ava DuVernay's based-on-a-true-story film about this same group of teenagers – When They See Us.
Related Post: Unbelievable Movies Based on True Stories that Deserve Documentary Status
I hope you get a chance to watch all of these civil rights documentaries about racial injustice. They're all equally mind-blowing and so important to watch! Enjoy.
You may also be interested in:
---
Subscribe to our email list for notifications of new documentaries and what you should be watching!