10 Uplifting Documentaries that Will Turn Your Day Around
There are times when uplifting documentaries are exactly what you need. They'll take your mind off of things, motivate you to get going, inspire you to change your life… and just make you feel better!
From Brene Brown telling you exactly what to do to Searching for Sugar Man keeping you glued to the screen, these feel-good documentaries will do ALL of those things. Some will get you moving, others will make you feel warm and fuzzy inside and some will just do a great job relaxing you.
There's something for everyone here! Time to shuffle up your queue and move a happy documentary to the top! It's time to binge watch.
---
Subscribe to our email list for notifications of new documentaries and what you should be watching!
---
Some links on this page many contain affiliate links. For more information, see our disclosure policy.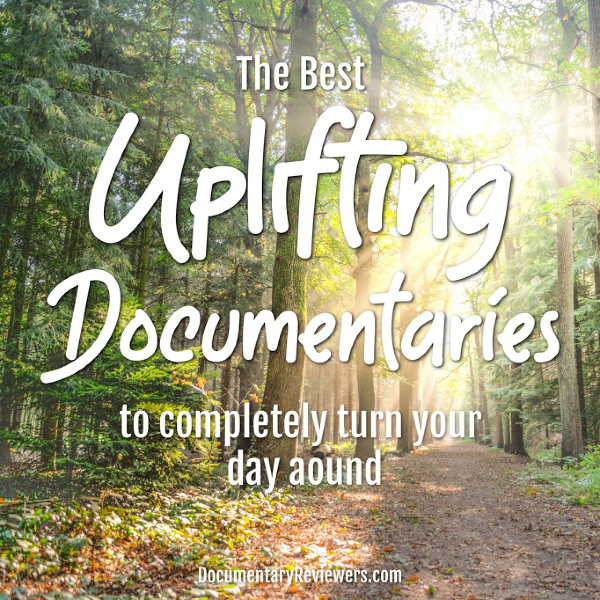 The Secret
It's hard to beat The Secret when it comes to uplifting documentaries…it pretty much lays out exactly how you can turn around your entire life, not just a bad day.
The actual "secret" is the Law of Attraction and this documentary does a great job of explaining how to make it work for you.
Using experts and anecdotes, The Secret talks about everything from finding love and making more money to healing illness and overcoming serious trauma.
It's a pretty amazing concept and the documentary does an amazing job of convincing you that it's totally possible…and what do you have to lose?
If you're looking for an uplifting documentary on Netflix to help you get back on track, this is it! It's honestly worth watching more than once, so definitely add it to your queue!
Searching for Sugar Man
Searching for Sugar Man is one of the greatest feel-good documentaries of all time…even if it doesn't immediately feel like it (keep watching!).
This is an underdog story like no other, with amazing music to make it even better.
The story follows Rodriguez, a struggling Detroit musician who's actually really talented, but just can't seem to catch his big break.
Somehow, his record makes it to South Africa…and multiplies by the thousands, ultimately turning Rodriguez into the nation's most popular musician.
The catch? Rodriguez never finds out. And in the pre-internet days, no one from South Africa can find Rodriguez either.
You honestly won't be able to believe this story is true, but it is! And it's definitely an amazing and uplifting documentary that is perfect for turning around a bad day.
Move this one to the top of your list.
Brene Brown: The Call to Courage
Brene Brown has made a name for herself researching some pretty unsavory aspects of life – most notably, shame and vulnerability. But in doing that, she discovered some amazing secrets to a happy and fulfilled life, all revealed in Brene Brown: The Call to Courage.
Her theories about finding joy are pretty inspirational and, if implemented, could be pretty life-changing.
In addition to her focus on courage and embracing vulnerability, Brene herself is entertaining and funny, which makes this film that much more enjoyable.
This uplifting documentary is on Netflix, so it's an easy one to add to your queue and one you'll be glad you watched!
Happy
Of all the uplifting documentaries out there, Happy is the one that gets right to the crux of the matter – what makes us happy??
By traveling to various countries throughout the world – those rated the happiest, healthiest, and with the longest life spans – this documentary tries to find out what is making these people so happy…and whether we can bring a little bit of that into our lives.
A lot of the findings aren't too shocking, but you'll get confirmation on a lot of things you've probably been considering and you'll most likely walk away with some new ideas to ponder!
The Soul of Success: The Jack Canfield Story
Jack Canfield has made a career of making life better and The Soul of Success: The Jack Canfield Story tells how that came to be, from his first major hit (The Chicken Soup for the Soul series) to his own personal brand and traveling the country as a motivational speaker.
Jack Canfield is definitely a wise man and has developed an expertise on success (yep, it's possible!), which is certainly inspirational, to say the least.
His advice is easy and actionable, so you'll leave this documentary feeling like you have good ideas that you can implement right away…and that's no small thing!
Definitely add this to your list of uplifting documentaries. It's a perfect way to get some much needed motivation when you are feeling lost.
Minimalism
Sometimes less is more and Minimalism: A Documentary about the Little Things is out to prove just that.
This uplifting documentary takes on a unique perspective when it comes to changing your life (or day) because its focus is really on doing less, not more.
By following the producers' own journey towards minimalism, you can see what it takes to implement minimalism successfully and the sometimes immense benefits to decluttering your life and mind.
Minimalism may be easier said than done, but this film certainly makes it seem easy…and more importantly, beneficial.
This is the uplifting documentary to watch if you need the motivation to clean your life up a bit (literally)…or if you just want to learn a thing or two about minimalism.
Chef's Table
Food feels good. And Chef's Table feels really, really good.
This uplifting documentary is the perfect way to take your mind off of things and maybe inspire some new recipes or travel destinations.
Each episode of this series follows a different world-class chef and tells their story of success…and these stories are unbelievable.
From isolated Nordic locales and the mountains of Chile to farm-to-table operations and hole-in-the-wall Brooklyn digs, you will be blown away by the talent and expertise that these chefs have developed.
Equally unbelievable are the stunning restaurants and drool-worthy dishes that they are able to offer – and some will really blow your mind.
This is definitely an uplifting Netlfix documentary series that you will enjoy and it will keep you occupied for weeks. Add it to your queue!
Napoleon Hill's Master Key
Get a notebook, pen and cup of coffee for this one because Napoleon Hill's Master Key is basically a course on making your life better…literally.
This is probably one of the oldest uplifting documentaries you'll ever see too, dating all the way back to the 50's!
But it doesn't even matter because the concept is timeless and Napoleon Hill is one of history's greatest experts on success and motivation (he wrote the top selling book, Think and Grow Rich).
This inspirational documentary is broken into different segments, each with its own lesson (I wasn't kidding about the notebook). But the lessons are the real deal and if you listen to them, you'll definitely be able to improve your life.
This is definitely an uplifting documentary worth watching…again and again. It will not only make you feel better, it will make you more successful too.
Africa
If you are in need of an anxiety-reducing documentary, then the world of nature needs to top your list and Africa is, without a doubt, one of the best nature documentaries out there.
This uplifting documentary is just what you'd expect from a nature documentary, except that its focus on Africa means it has the most mind-blowing terrains, animals and ecosystems that you can imagine.
No matter how much you think you know – or how many beautiful places you've seen – Africa will still blow your mind…and you'll definitely be planning your next Africa trip!
This is a must-watch documentary to add to your Netflix queue and one that will definitely help get your mind off of things.
Tiny
It may be hard to believe, but living in a smaller home might actually make us happier. At least, that the theory behind Tiny…and in a very extreme way.
This uplifting documentary follows people who live in "tiny homes", which aren't just homes that feel small…they're smaller than 500 square feet.
A lot of sacrifice comes with living in such a small home, but there's also a lot of freedom to gain.
This documentary will leave you shocked and bewildered, but in an inspirational and uplifting way! Get ready to declutter because you'll be thinking twice about your belongings after this one.
I hope you get a chance to watch every one of these uplifting documentaries! Nothing inspires, motivates, and feels better than a great documentary. Enjoy!
You may also be interested in:
---
Subscribe to our email list for notifications of new documentaries and what you should be watching!