The Best New Documentaries of 2020
2020 has been quite a year and thankfully, despite so many studios being shut down, Netflix, HBO, Hulu and Amazon Prime still managed to keep us distracted with some amazing new documentaries! If you haven't seen these, then you know what to do! Update your queue and get cozy – because these are the best documentaries of 2020.
---
Subscribe to our email list for notifications of new documentaries and what you should be watching!
---
Some links on this page many contain affiliate links. For more information, see our disclosure policy.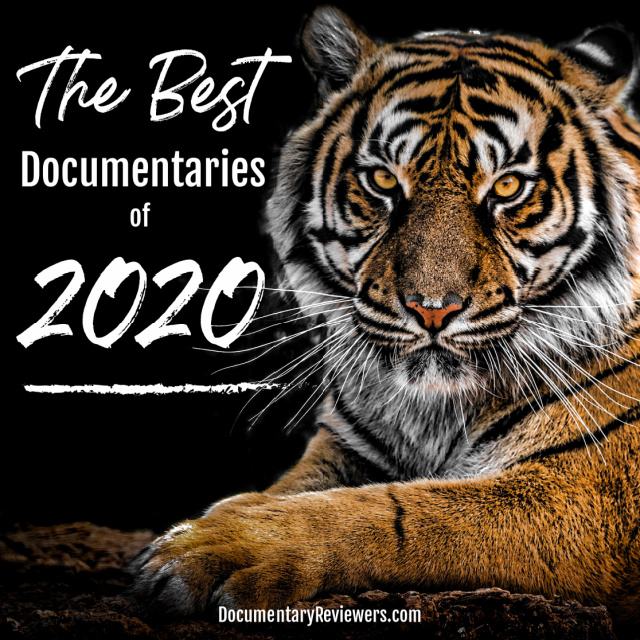 Tiger King
If there's one Netflix documentary that 2020 will be remembered for, it's Tiger King.
This documentary series is insane…truly. Around every corner and by the end of each episode, there's more shocking events that you just can't believe.
The series dives into the exotic animal world and follows the life-long battle between tiger zoo owner, Joe Exotic and tiger rescue advocate, Carole Baskin.
Their dispute on its own is bizarre, but the lifestyle, personalities, and inner circles between the two only add to the truly addictive nature of this series.
Between the allure of the large cats and the number of shocking sub-plots in this show, you are bound to be glued to the screen from start to finish.
If Tiger King didn't already work its way into your 2020 queue, then now is definitely the time!
(Un)Well
Every now and then a new documentary on health comes along that really blows your mind – THIS is 2020's version: (Un)Well.
From the crazy trend of essential oils (are they, or are they not a gimmick?!?) to the life-saving power of fasting (or could it actually kill you?), this new 2020 documentary series takes a look at some of the most interesting and controversial health trends and presents both sides of the story.
What is so amazing and addictive about this docuseries is that it really does a great job of making you feel like each health alternative is both life-saving and deadly.
Your eyes will be glued to the screen from beginning to end…and you'll keep thinking about it long after you've finished!
This is definitely one of the best new Netflix documentaries to enter this summer, so add it to the top of your queue!
The Social Dilemma
We all know there's controversy surrounding the role of social media in our lives…but do you really know it's power? The Social Dilemma lifts the curtain on the inner-workings of the algorithms that control the information we consume…and it's shocking, to say the least.
From the polarization in politics to the effects on teens and children, and, of course, the advent of fake news…social media might be responsible for more than you think.
I guarantee this documentary will change the way you view social media, so definitely add this to your queue! It's a 2020 documentary that everyone needs to see.
The Best Documentaries of 2019
2019 has given us some of the best new documentaries that we've ever seen – and there's still more coming!
With companies like Netflix, HBO, and Amazon Prime jumping in to compete, new documentaries are popping up every few weeks and some of them are just amazing.
There have been new Netflix documentary series', true crime, politics, and even some life-changing inspirational documentaries that are all worth moving to the top of your queue.
So we've gathered this list of the best new documentaries in 2019 and we'll keep adding to it as even more come out.
Time to update your queue, sit back, and enjoy!
Fyre: The Greatest Party that Never Happened
If there's a new documentary that Netflix has become most known for in 2019, it's definitely Fyre: The Greatest Party that Never Happened.
And for good reason – Netflix really hit it out of the ballpark with this one!
This new documentary covers the famed – and failed – mega-party that was supposed to happen in the Caribbean, hosted by millennial entrepreneur Billy McFarland.
The party (it was really a concert) was a big enough deal that you probably remember seeing it in the news…but you definitely don't know what went on behind the scenes and THAT is what makes this new Netflix documentary so amazing.
The footage is breathtaking, the story is shocking, and once again, Netflix got an amazing host of insiders to tell what really happened.
You'll love this documentary! It's definitely worth moving to the top of your queue.

Living Undocumented
Of all the best new documentaries of 2019, none are as relevant to our current times as Living Undocumented.
This new Netflix docuseries follows different undocumented families that are all living in the U.S., grappling with the devastating effects of new changes to immigration policy.
In addition to a ton of suspense and really pulling on your heartstrings, this new documentary shows just how complex our immigration policy is, with each family being affected by different laws and loopholes.
Some have been living in this country and paying taxes for decades, some are married to US citizens, and some have children that are US citizens. Many are fleeing persecution and many were brought here as infants and children, with no knowledge what-so-ever of the country they were born in.
These stories are unbelievably powerful and Netflix once again put together an amazing production. This is definitely a must-watch new Netflix documentary of 2019 to add to your list!

Murder Mountain
Murder Mountain was the first Netflix documentary series to enter 2019 and it definitely did not disappoint!
Set in the mountains (Murder Mountain, to be exact) of Humboldt county, California, the docuseries follows two different, but intertwining storylines – one, of the complicated history of marijuana growers in the country's most notorious fields and two, of the twisted murder mystery that plagued Murder Mountain because of its reputation for growing marijuana.
This new Netflix documentary is both entertaining and captivating, with a bit of history, some present-day politics, and a lot of true crime.
It is definitely worth adding to your queue, so cozy up and clear your weekend!
The Last Czars
Netflix is at it again with The Last Czars, producing not just another amazing new documentary series, but introducing an entirely new style of documentary production (at least, in a more dramatic way).
The Last Czars tells of the tragic and complicated lives of Czar Nicholas II of Russia and his wife, Czarina Alexandra. Through the Romanov's eyes, you'll learn of this little – though significant – piece of Russian history that takes you through World War I up to the Russian Revolution.
This historic documentary is not just your average documentary though – its a movie-quality dramatic reenactment that is intertwined with classic documentary-style commentary…so you'll feel like you're watching a binge-worthy dramatic docuseries, as well as an interesting and informative documentary.
This is absolutely one of the best new documentaries on Netflix, so definitely add it to your queue and get cozy!

Don't F**k With Cats
Don't F**k With Cats is one of those amazing documentaries that is so bizarre it must be true…and it's definitely one you have to see!
This true crime saga starts with an internet-savvy group that comes across a disturbing video…something they refuse to let go unpunished.
So they set out to uncover exactly who published the video and hopefully seek justice for his bold crimes.
The drama that unfolds spans multiple years, continents, and various players that are all working to hunt the now infamous criminal.
This 2019 Netflix documentary just made it in time with a December release! So add it to your 2020 list if you don't sneak it in before the new year.

At the Heart of Gold: Inside the USA Gymnastics Scandal
Amidst the #MeToo movement, a horrifying sexual assault scandal came to the surface involving Olympic doctor Larry Nassar and countless young gymnasts. At the Heart of Gold: Inside the USA Gymnastics Scandal digs deep into the story, going back decades, when Nassar's abuse started.
The scale to which Larry Nassar was able to abuse young girls is mind-boggling and as this new HBO documentary shows, the lengths these girls had to go to receive justice and protection was downright cruel.
This is an amazing new documentary that will stick with you for a while and will fill in a lot of blanks that the media didn't cover when this disturbing scandal broke.
This is definitely a documentary of 2019 that you will want to see.

True Justice: Bryan Stevenson's Fight for Equality
True Justice: Bryan Stevenson's Fight for Equality is an amazing new documentary from 2019 that follows Bryan Stevenson and his fight to provide equal justice for everyone, regardless of race or criminal background…a fight that has him leading the charge against reform for death row inmates.
Through his dedication, he has successfully saved innocent men from wrongful convictions that would have resulted in a death sentence.
Aside from the powerful work that Stevenson pursues, this new documentary sheds a light on the historic ties that wrongful convictions have on African Americans in our country.
This documentary is eye-opening, startling, and powerful. It is definitely one that everyone needs to see, so add this 2019 documentary to your queue!

Knock Down the House
If you really want to embrace a documentary for 2019, then Knock Down the House is it.
Following Alexandria Ocasio-Cortez and three other determined women, you get to see just what it takes to run for office in America.
Even if you know how it ends (and if you know her name, then you know how it ends!), you will still be blown away by the determination and sacrifice it took to fight for "everyday people."
This is a great new Netflix documentary of 2019 and certainly one of the most relevant to our current political climate, so definitely add it to your queue!

Brene Brown: The Call to Courage
Brene Brown: The Call to Courage takes a brilliant author, gives her a platform on the topic of shame, vulnerability, and success, and creates an inspirational documentary that will leave you motivated and pondering your choices in life.
This new Netflix documentary is something everyone should see for their own benefit, but what is really so wonderful is that Brene is actually really, really funny.
So while you're thinking about vulnerability, courage, taking changes, and putting yourself out there, you're also laughing, which keeps the documentary from being too heavy.
This is definitely a worthy documentary of 2019 to add to your queue! You'll be better for it.

The Best Documentaries of 2018
Time flies when you're having fun, so if you somehow missed these amazing documentaries from 2018, don't fret! There's still time!
2018 had some outrageous true crime documentaries enter the scene, as well as some inspirational documentaries from celebrities.
They're all worth watching, so make sure to add these to your queue!

Evil Genius
Just when you think you've seen every type of true crime documentary, Netflix comes out with Evil Genius…and once again outdoes itself.
Evil Genius tells the story of the notorious pizza bomber bank heist, where a man robs a bank with a bomb strapped around his neck…and it doesn't end well.
But that's only a fraction of the tale and Netflix takes you through each and every twist of the case in a new episode.
This new documentary is diabolical, shocking, and totally captivating.
If true crime is your sweet spot, you will love Evil Genius!
Related Post: 10 True Crime Documentaries that Will Completely Blow Your Mind
Survivors Guide to Prison
There have been a lot of really great new prison documentaries added over the last few years that have completely raised the bar on prison documentaries and Survivors Guide to Prison is no exception.
This new documentary focuses on a long list of prison issues, from incarceration rates and private prison profits to racism, discrimination, and the immense wealth that is required to fight in our current justice system.
The perspective is eery because it's presented as – well, a guide for how to survive prison.
You may think that won't apply to you, but what you soon realize is that the majority – yes, the majority – of inmates may actually be innocent of the crimes they supposedly committed.
If you like prison documentaries, this is definitely one to add to your list!
Related Post: The Best Prison Documentaries to Scare You Straight
Wild Wild Country
Wild Wild Country tells the story of Rajneeshpuram, an international cult that built their Utopian community in the Oregonian wilderness.
Unfortunately, their peaceful existence was short-lived and not long after their city had been formed did an epic battle begin with the local townspeople.
The issue? Well, the neighbors didn't quite buy into the peaceful existence and the Rajneeshees didn't exactly want to peacefully assimilate.
What followed can only be described as the most bizarre political dispute that Oregon's ever faced.
One of the coolest aspects of this new documentary is that it is told primarily from those that were part of the cult, giving it a very unique perspective.
This is a great new docuseries that is well worth moving to the top of your queue!
Related Post: 8 Creepy Cult Documentaries that Will Leave You Shocked and Bewildered
Robin Williams: Come Inside My Mind
Of the new documentaries released this year, HBO's film of Robin Williams was eagerly waiting at the top of our watch list.
Watchers beware: Your emotions will go for a ride watching this one!
Even with some amped up expectations it delivered an incredibly funny and nostalgic view into Robin's work.
In contrast, it also dealt a sobering blow portraying the dark reality of his environment and his own mind.
Robin Williams: Come Inside My Mind wasn't just fascinating, the film also made it clear he was firmly implanted into the pop culture of the times.
This was definitely one of the best new documentaries of 2018, especially if you enjoy a little emotional tug-of-war.
Related Post: The Best HBO Documentaries that You Can Stream Right Now
The Staircase
The Staircase isn't exactly new. Quite the contrary, it is actually one of the first really great docuseries to become mainstream.
But in 2018, Netflix released 3 new follow-up episodes that continue the saga of the Peterson family, and more importantly, brought The Staircase back to the forefront.
For those new to The Staircase, the documentary series chronicles Michael Peterson's fight to prove that he's innocent of killing his wife after she was found dead at the bottom of their staircase.
From the very beginning until the very end, there are unexpected twists and turns and you will constantly be going back and forth about what really happened.
One thing is for sure though – you'll be glued to the screen for each and every episode!
Related Post: The 9 Best Netflix Docuseries to Move to the Top of Your Queue
Believer
Believer was a surprisingly inspirational new documentary of 2018 and one that is hard not to enjoy.
Following Imagine Dragons lead man Dan Reynolds, Believer chronicles his mission to change the Mormon Church's stance on same-sex marriage and the LGTBQ community.
The Mormon Church has notoriously stood firmly against acknowledging LGTBQ rights, undoubtedly contributing to Utah's status of having the highest teen suicide rate in the country.
Dan's passion and determination is addicting and interviews from people directly affected by this issue will pull on your heartstrings throughout the entire film.
Related post: 4 Religion Documentaries that Will Fuel Your Curiosity
Seeing Allred
Seeing Allred chronicles the life and work of famed lawyer, Gloria Allred.
If you don't know Allred's past (which I bet you don't), then you'll be blown away by the passion and dedication Allred has infused into her entire career, not to mention the adversity she's had to overcome throughout her life.
And if you can't quite put your finger on who Gloria Allred is…she's most well-known for defending women who have had the unfortunate position of defending themselves against men like Bill Cosby and Donald Trump.
What is so amazing about this new documentary, though, is the realization that there is so much behind the high-profile cases and celebrity status.
Gloria Allred is a true champion of women's rights and her contributions have had an immeasurable impact on the lives of women today.
Related post: 6 Feminist Documentaries that All Women (and Men) Should See
Time to once again update your queue and add the best new documentaries of 2018! Check back to see when other new ones get added (we've got a few we're waiting for! 😉 ).
You may also be interested in:
---
Subscribe to our email list for notifications of new documentaries and what you should be watching!