Must-See Documentaries about Donald Trump that Will Have Your Jaw Dropping
King of reality TV, President of the United States, business man, con man, conspiracy theorist…it's no surprise that there are some great documentaries about Donald Trump out there! From his earliest days to some of his darkest moments in politics, there are plenty of people ready to expose what goes on behind the scenes in Trump's world.
So if you're sick of watching the news, but still can't get your fill of this man, then update your queue with these must-watch documentaries – you'll be shocked by how much you learn.
Enjoy!
---
Subscribe to our email list for notifications of new documentaries and what you should be watching!
---
Some links on this page many contain affiliate links. For more information, see our disclosure policy.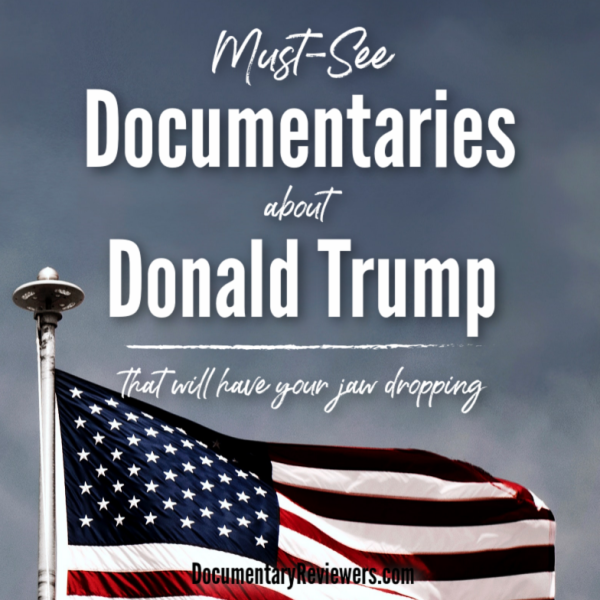 Trump: An American Dream
If you really want a documentary about Trump, then Trump: An American Dream needs to move to the top of your Netflix queue.
This Trump documentary (actually a full docuseries) takes you all the way back to his early adult life – before he made his first real estate purchase and started to become the man we know today. It then brings you up to the very moment he decided to run for President.
You'll see his professional rise (and fall), his three marriages, lifelong interest in the presidency, and so many of the events and circumstances that made him who he is today.
This is an extremely interesting and captivating documentary about Donald Trump that, really, everyone should see. Whether you love him or hate him, you will learn something from this documentary!
Fahrenheit 11/9
Michael Moore's Fahrenheit 11/9 takes a look at the unlikely factors that led to Donald Trump's victory in the 2016 election, as well as his connection to the Flint, Michigan water crisis and the mass shooting crisis happening around the country.
But more terrifying is the picture that Moore paints for the future under Trump's control, which he sees as scarily similar to life under the control of history's most notorious leader.
This is an unbelievably shocking documentary about Donald Trump that will keep you completely glued to the screen. It's definitely one to add to your queue!
Dirty Money: Confidence Man
Wow. Want to see the dark side of Donald Trump? Watch Dirty Money's episode Confidence Man (part of Season 1) and you'll definitely feel like you've been conned…which is what they claim Trump is an expert at.
Following his history of failed business ventures, this docuseries shows a side of Trump he definitely doesn't want you to see – the one where his only hope of recovery was to make it as a reality star pretending to be a master of dealmaking…something he actually had never done very well.
If you're not a big fan of Trump, you'll definitely be a big fan of this documentary. The docuseries is full of great con stories, but you can skip straight to this one!
Get Me Roger Stone
Get Me Roger Stone may not feature Trump, but he's definitely a big part of it. This documentary provides some eye-opening information about why Trump does some of the things he does…and an inside look on the man that taught him how to be scandalous.
FIlmed before Stone was arrested, this documentary explains Stone's unsavory tactics and what he's done to help politicians like Trump win at all cost, including how to take down their adversaries with disturbing precision.
Trump still makes more than a few appearances in this documentary and one of the main themes is how important Stone's role was in getting Trump the presidency.
This is a must-watch Trump documentary that reveals a lot of the behind-the-scenes scandals that go on in politics.
I hope you get a chance to watch all of these Donald Trump documentaries! I"m sure there will be many more to come, so keep checking back in as Netflix, HBO and Amazon continue to do what they do best.
You may also be interested in:
---
Subscribe to our email list for notifications of new documentaries and what you should be watching!