The Ultimate List of Inspirational Documentaries to Watch
Nothing beats coming across an amazing inspirational documentary that completely changes your worldview or motivates you to achieve something spectacular. And some of them are truly life-changing…you'll just keep watching them again and again!
So I've created this list to make the task of finding the best inspirational documentaries a little bit easier.
Hopefully you'll get a chance to watch every single one of these documentaries and hopefully they'll change your life for the better. There's a reason we're naturally drawn to inspiration.
Happy watching!
---
Subscribe to our email list for notifications of new documentaries and what you should be watching!
Some links on this page many contain affiliate links. For more information, see our disclosure policy.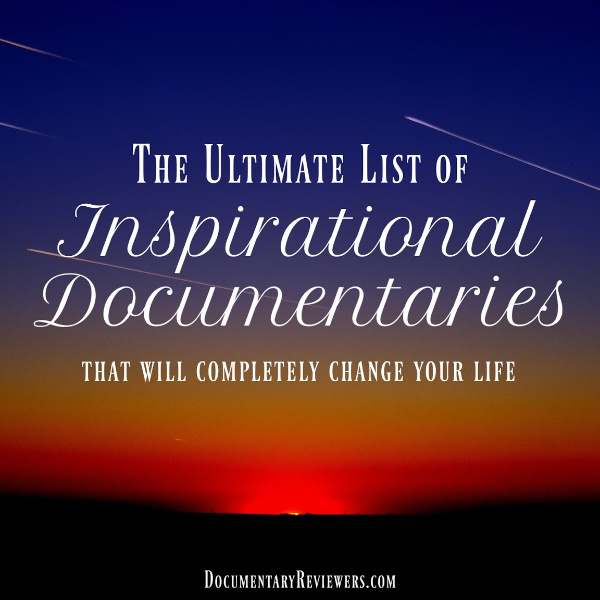 The Soul of Success: The Jack Canfield Story
The Soul of Success: The Jack Canfield Story tells the inspirational story of Jack Canfield, most known for publishing the wildly successful Chicken Soup for the Soul book series.
But the story of his success is only one piece of what makes this inspirational documentary so powerful.
Amidst his publishing triumph, Canfield finds his true calling, which is motivating others to make their own dreams come true.
This passion turns into a lifelong pursuit of discovering exactly what makes people successful…and how each of us can use that knowledge to follow in his footsteps.
This is definitely one of the best inspirational documentaries that will definitely push you to follow your passion and achieve your dreams!

The Secret
It's hard to top The Secret when it comes to inspirational documentaries because the whole intent of the film is to inspire you…quite literally, to DO ANYTHING.
The focus is on the Law of Attraction and how every single person has the ability to harness its power to make their dreams come true.
It may be a little hard to believe at first, but as you continue watching you just get more and more pulled in. And really, after a while, you'll realize that you have nothing to lose by believing every part of this inspirational documentary.
I won't lie, this is one of the few documentaries that I watch over and over and over again. So please, give it a try! It's a game changer.

Becoming Warren Buffett
Warren Buffett didn't become one of the wealthiest and wisest men of our time by chance…it took a lot of hard work, smart decision making, and education. Becoming Warren Buffett starts at the very beginning and focuses on Buffett's entire life to see how he got to where he is.
This inspirational documentary will have you taking notes and jotting down ideas of your own as you watch Warren's own successful rise.
Sometimes the best inspiration comes from seeing someone else's success and realizing that you too could do what they did, and that's exactly what this documentary is.

Forks over Knives
If your diet or health are in need of inspiration, then look no further than Forks over Knives.
Forks over Knives is the ultimate food documentary that will undoubtedly change the way you eat (and presumably for the better).
What is so shocking and life-changing about Forks over Knives is how many scientific studies, statistics, and clear facts are used to support their stance.
It's hard to argue with them!
This is definitely one of the most powerful documentaries out there and certainly one that will inspire big changes in your life. So add it to your Netflix queue!

Desert Runners
If you've ever needed motivation to get off the couch and go out for your next run, then Desert Runners needs to be the next inspirational documentary you watch.
Following 4 unbelievably determined runners, this film documents their preparation and participation in one of the world's craziest running races – 4 ultra-marathons within the same year that go across each of the world's most intense deserts.
Trust me, after watching this inspirational documentary, you will absolutely be able to run faster and longer…and with way less complaining.
And even if you don't plan to run, your mind will still be completely blown away by what the human body is able to achieve.

Brene Brown: The Call to Courage
Brene Brown: The Call to Courage is one of the newest inspirational documentaries on Netflix and there's just no way you won't change the way you think, act, and feel after watching it!
If you've followed Brown through the years, then you know she's a "shame researcher" who hit it big with a really great Ted Talk, followed by some best-selling books…all on living a better life.
In this inspirational documentary, she focuses on vulnerability, but in a way that you've definitely never thought of before and the best part is…she's actually FUNNY.
If you're looking for inspiration, then this HAS to go into your Netflix queue! It's a good one!

Believer
Believer is an amazing inspirational documentary that follows the lead singer of Imagine Dragons, Dan Reynolds, as he leads a movement to try and change the Mormon Church's stance on homosexuality and same-sex marriage.
Being Mormon himself, Reynolds is all too familiar with the devastating repercussions of the Mormon Church's stance, which has led to the highest teen suicide rate in the nation, among other things.
Reynolds' determination is extremely inspiring and makes for a great documentary that leaves you hopeful and motivated to start your own form of change.

Heal
Heal is a new inspirational documentary on Netflix and it will definitely make you think differently about how you treat your body and health.
The focus is on how our brain has the amazing ability to heal us, if we can figure out how to use it properly.
As with so many other inspirational documentaries like this, it has a lot of scientific evidence backing it up, which will really make you second guess everything you thought you knew.
The other thing that is really amazing about this inspirational documentary is that it leaves you with actionable steps you can take immediately to start improving your health…all with your brain!
This is absolutely a documentary that everyone needs to see!

Minimalism: A Documentary about the Important Things
Need some inspiration to clean up your life, live more simply, and appreciate the small things in life? That's exactly what Minimalism: A Documentary about the Important Things will do.
As the title suggests, this documentary focuses on minimalism and the powerful impact it can have on your life if you truly embrace it.
Minimalism may be trendy lately, but it's for good reason…there's a lot of truth to the power of living small.
This is an important inspirational documentary that everyone should see. It's another one to add to the queue!

I Am
Get ready to have your mind blown because I Am is not just inspirational, it's also astonishing and intense.
Triggered by the film maker's own pain and suffering, I Am takes a look at the whole world and examines how interconnected we all are…and not just by commerce, the internet, or travel. By something far stronger and elusive.
This is a really interesting documentary that you may need to watch more than once just to really understand, but it is worth it!
It will undoubtedly inspire you to change the way you live and view those around you.

Happy
The title tells you all you need to know about this inspirational documentary. Happy goes around the world in search of what makes people truly happy, from America to Denmark and Japan.
The results may or may not surprise you, but they will almost surely make you adjust your priorities a bit.
This documentary definitely sheds light on what is truly important in life and leaves you with a lot to think about.
It's a great source of inspiration if you're looking for change in your life.
I hope you get a chance to watch every single one of these inspirational documentaries. There's no question they'll change the way you think and give you some newfound motivation to head down whatever path is next for you. Enjoy!

You may also be interested in:
---
Subscribe to our email list for notifications of new documentaries and what you should be watching!