11 Disturbing Documentaries that You'll Never Be Able to Unsee
Why is it that we crave disturbing documentaries that sit with us long after we've finished watching them? Just like passing a horrific car accident, you can't help but keep your eyes glued to the screen. And while it may feel similar to watching a horror movie, these films are all entirely true – and that's one of the reasons disturbing documentaries are far more unsettling than anything fiction could conjure up.
If you're looking for chills running down your spine or that gut-wrenching feeling of realizing that reality is often far more disturbing than fiction, then buckle up (and update your queue!), these documentaries need to be next on your list:
---
Subscribe to our email list for notifications of new documentaries and what you should be watching!
---
Some links on this page many contain affiliate links. For more information, see our disclosure policy.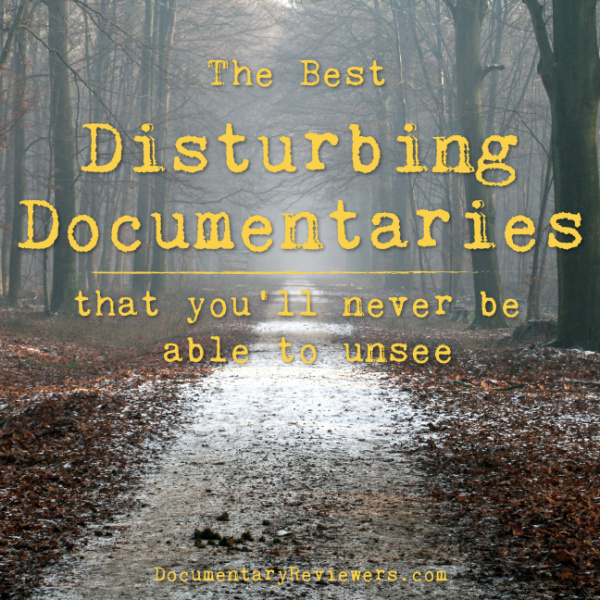 Don't F*** With Cats
Don't F*** With Cats is a disturbing Netflix documentary from start to finish.
When a real-life motley crew discovers a man posting videos of himself murdering cats online, they decide they need to take police work into their own hands and track down the deviant themselves.
Their determination and wisdom is impressive enough but what really makes this documentary truly disturbing is everything they uncover along the way…enough to turn the investigation into an international manhunt.
This is one of those documentaries that you won't believe is true…except for the fact that it's just too bizarre to be fiction.
Dear Zachary
Heartbreaking, gut-wrenching and outrageously disturbing, Dear Zachary is a one-of-a-kind documentary devoted to telling the story of Zachary's father, a man whose life was suspected to have been cut short by Zachary's own mother.
The circumstances of the death are bizarre and disturbing enough, but the complicated role that Zachary's mother has in his life and that of his grandparents becomes the real focus on the documentary.
The ending of this film will stay with you forever, so watch it until the very end.
Welcome to Leith
Welcome to Leith is a different kind of disturbing documentary. Instead of grotesque murders happening on screen, the unsettling nature of this documentary is what is happening behind the scenes – a neonazi white supremecist with the disturbing goal of taking over a tiny town to win voting rights and create a haven for fellow white supremacists.
And he really works hard to make it happen.
Once the town realizes his intentions, they set into action to try and stop him. But their efforts aren't always enough and the fight is far from simple.
This documentary isn't just disturbing because of the person it profiles, it's also terrifying to realize that loopholes like this exist in America and what happened here could, in theory, happen again.
The Devil Next Door
The Devil Next Door might be one of the hardest documentaries you ever watch, but you also won't be able to pull yourself away from the screen.
It follows the arrest and trial of John Demjanjuk, an immigrant living in Cleveland, who is accused of being the notorious and sadistic Nazi death camp guard, Ivan the Terrible.
The documentary not only covers the horrors of Ivan's treatment of his captives, it also lays out the very real and difficult task that Israel has of locating and convicting war criminals.
This is a Netflix documentary that you will never forget…definitely add it to your queue.
Related post: The Best True Crime Documentaries of All Time
Mommy Dead and Dearest
Definitely one of the best disturbing documentaries of all time, Mommy Dead and Dearest tells the horrific story of Gypsy Rose, a young woman who lived through a true nightmare.
Gypsy's childhood was plagued with cancer treatments, feeding tubes, and ailment after ailment. Unable to walk, she grew up in a wheelchair, cared for only by her mother.
What appeared to be a loving family, however, turned out to be a complete sham…and people soon realized that Gypsy wasn't sick at all. It was her disturbed mother that had the problems.
The ending of this story though is the true shocker, so don't stop watching! What starts out as disturbing continues to be disturbing until the very end.
Related post: 13 Bizarre Documentaries that You Need to See to Believe
Time: The Kalief Browder Story
Time: The Kalief Browder Story reveals the disturbing failings of our justice system by telling the story of Kalief Browder in horrific detail.
As a teenage boy, Kalief was arrested for a crime he did not commit – and that ultimately landed him in jail, awaiting trial, for over three years.
The fact that Kalief had to spend three years in jail without ever receiving a conviction is only one of the serious injustices that he faced. While in prison, he was tortured and abused in a way that would ultimately ruin his life.
This disturbing Netflix documentary will stay with you for a very long time, but it is so important to watch and is definitely a documentary that everyone needs to see.
Related posts: The most powerful Civil Rights Documentaries that Everyone Should Watch
Crime Scene: The Vanishing at Cecil Hotel
A notorious hotel already riddled with a past full of controversial crimes is the setting for the next truly disturbing documentary, Crime Scene: The Vanishing at Cecil Hotel.
This series documents the disappearance of Elisa Lam, a Canadian woman who instantly drew international attention when she inexplicably went missing.
The location and history of the hotel draw red flags immediately, but the actual outcome is something you won't see coming.
This is definitely a disturbing documentary that you won't soon forget, but one that will have your eyes glued to the screen the entire time. Clear your schedule, it's perfect for a weekend binge-watch.
Jonestown: Paradise Lost
Jonestown: Paradise Lost tells the disturbing and heartbreaking story of Jim Jones and the People's Temple in Jonestown, Guyana.
Possibly the most notorious cult of all time, the People's Temple moved to Guyana from San Francisco to create a socialist utopian community.
Under the strict and bizarre leadership of Jim Jones, allegations of abuse eventually begin to rise and the cult is investigated by a US Congressman and a group of American journalists and family members.
Frustrated by the unexpected visit and furious with a group of defectors, Jim Jones sets into motion one of the most devastating events to occur in American history.
This disturbing documentary will stay with you for a very, very long time. But it is an important one to see, so definitely add it to your queue.
Related Post: The Best Cult Documentaries that Will Leave You Shocked and Bewildered
The Disappearance of Madeleine McCann
If you have children, then it really doesn't get any more disturbing than The Disappearance of Madeleine McCann.
Her kidnapping from a Portugese resort was one of the most covered cases in the media and one you likely remember. But the documentary provides an unbelievably detailed account of what really happened (or may have happened) to Madeleine….something far more complex than what the media revealed.
This is a really hard one to watch, but also one that will keep you glued to the screen. It's also a Netflix docuseries, so it will keep you occupied all weekend.
Evil Genius
Evil Genius is another disturbing Netflix documentary where you'll see something that you probably could have never conjured up yourself…and it just continues to get more bizarre.
It starts with the murder of Brian Wells, an unlucky pizza delivery man forced to carry out a bank robbery with a bomb strapped around his neck. Sadly, as you'll see in painful detail, it doesn't work out well for Wells.
That is when this disturbing documentary starts digging into who was involved in the setup and their twisted tale only adds to the bizarre nature of this crime.
This is another great disturbing documentary on Netflix, so add it to your queue and have it ready for your next binge-watching session.
I hope you get a chance to watch all of these disturbing documentaries! If this won't take your mind off of things, nothing will.
You may also be interested in:
---
Subscribe to our email list for notifications of new documentaries and what you should be watching!